If you want to detox before you retox, head to Napa Valley, says Charlene Peters
Dong…. The melodic note drifts across the poolside. "Be in the moment" counsels Robert Lane, our Deepak Chopra-trained Aqua Vibrations leader.
It is 8am and our trio of intrepid floatees are about to enter a hot springs mineral pools for a unique 90-minute wellness experience now being offered at Napa Valley Spa Solage in California.
IT BECAME IMPOSSIBLE TO TELL WHERE THE WATER ENDED AND WHERE MY BODY BEGAN
We gradually progress from seated in the pool to standing and chanting while chanting "gong fu" (in the moment… in the moment… in the moment) before swimming across the pool to climb atop one of three comfy, body-length floats. We are then covered with white cotton towels, so that we are now fully prepared to surrender our minds and bodies. With the hot springs water below us, and the comfort of the warm, wet towels on top of us, the sensation is meant to replicate the feel of a womb or cocoon. At one with the universe, it became impossible to tell where the water ended and where my body began. The meditative state that resulted was genuine, snug and soothing as a light rain tapped overhead, reminding us that we are but a spec in the universe.
As the breeze swayed us ever-so-slightly on our floats, Robert serenaded us into an even deeper state of relaxation with a symphony of sounds made by swirling and submerging quartz "singing bowls" into the water. The colour of each bowl and its melody corresponded with various chakra colours, and we were mesmerized. This had to be one of the world's most luxurious spa treatments.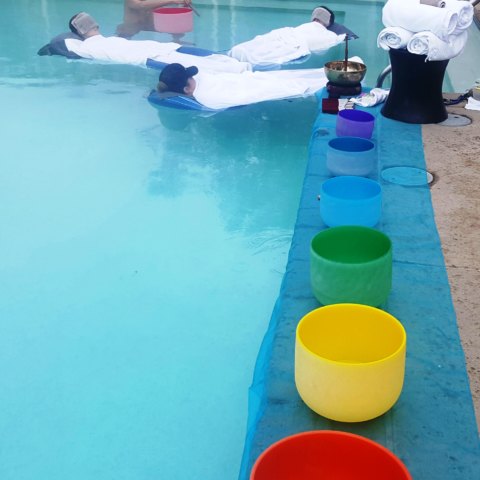 We exited the pool in a state of distinctly heightened awareness, like coming out of hypnosis; unable to decide if we'd been asleep or simply in a dream state. With our robes over our swimsuits, we headed over to the spa's wellness bar to refresh ourselves with a pure and delicious mixed berry smoothie, ever more so in our state of elevated sensory awareness. That night, I slept better than I had in months.
Calistoga, at the northernmost point of Napa Valley, is well-known for some of the world's top wineries, but originally, it was all about mud.
Ten thousand years ago, the Wappo tribe migrated west and south from what is now Russia. They sought a place to live near water, with fertile ground and mountains to provide protection from harsh weather. Arriving in the territory that came to be named Calistoga, the Wappo found a land full of wild brush, with hot steam emerging from the ground due to geothermal springs. The Wappo soon discovered that the natural mineral springs and mud was therapeutic.
The mud itself evolved from a volcanic eruption three million years earlier, when lava exploded and a burst of red-hot ash created what is known today as the Petrified Forest. When mixed with geothermal mineral water, this ash, found throughout Calistoga creates a delightfully detoxifying mud.
There are now seven hot springs resorts and 10 spas that offer traditional mud baths, hot springs or mineral pools. The concept of detoxifying the body through the external use of volcanic ash mixed with geothermal-heated water is offered everywhere, including Solage. It seemed rude not to smooth on some of this miracle mud, so I then signed up for the Spa Solage Mudslide.
The treatment starts with a meditation class, which was held at the fitness barn, which lies at the end of a path lined with bushes of fragrant rosemary and lavender. I rolled out my yoga mat, and joined the in some deep breathing exercises while listening to the therapist as he guided us into meditative relaxation.
The stage is set for the next phase of detoxification: the Spa Solage Mudslide. We were invited to the outdoor spa bar to select the aromatherapy oil that "speaks to you". I chose ylang-ylang oil, which was mixed with volcanic ash and geothermal water poured from a spigot on the wall. I then stepped into a private room where the therapist slathered onto me the misty gray mud concoction. I was then asked to lay there until the mud had dried and worked its detoxifying magic on my body. Before I knew it there was a gentle tap on the door to tell me that it was time to rinse off the mud in an outdoor Balinese shower and then I stepped into the next bungalow where I found a luxurious tub filled with hot springs mineral water. If this wasn't enough to lull me into a dream state, but it doesn't end here … one more bungalow later, I am invited to take a seat in a leather-wrapped zero-gravity chair where then zone out listening to soothing music.
This has to be the ultimate in relaxing spa treatments. Although maybe not if the Calistoga Ranch spa has its way. This secluded retreat that was created by lodges literally being helicoptered into the forest aims to provide an unparalleled getaway far from prying eyes. So it seemed that my Californian detox wouldn't be complete without a trip to the spa loved by all the celebrities.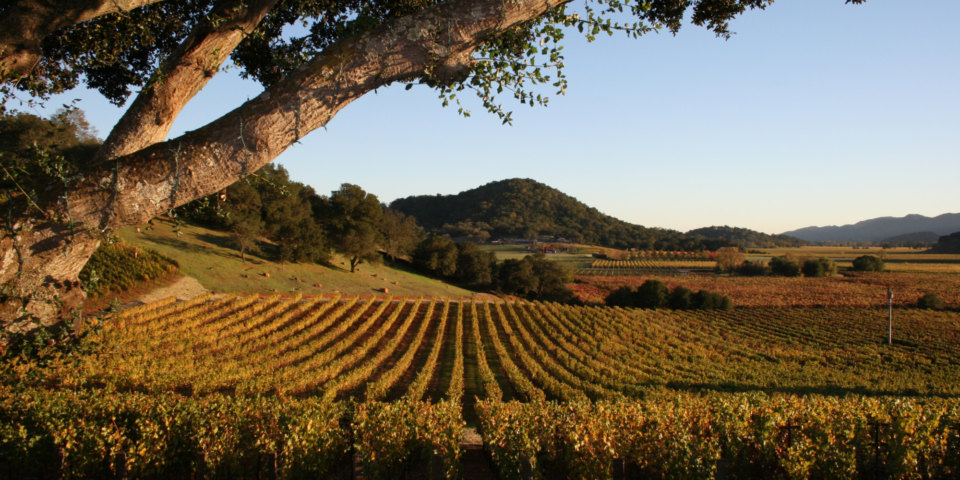 On arrival at the ranch, I found out that amenities are either in your lodging space or brought in on-request. I could enjoy a little forest bathing by taking advantage of the outdoor hot tub while taking deep inhales of the surrounding evergreens and crisp night air. And if I didn't fancy the hot tub, I could lounge by the outdoor fireplace in my cosy spa robe and slippers, before I caught up with some much needed zzzs in my zen-like bedroom.
The next day I went for a short hike to the cliff-top yoga class, where a view of the property's private vineyards and Calistoga terrain of palm, walnut and oak trees lay before me. The expert energy healer talks us through our poses as we alternated downward dogs with more poses to simultaneously lift spirituality and spine. If this wasn't exhilarating enough, the finishing touch came back in the lodge, where I cooled off under a rainfall shower.
Napa Valley may be the home of 50 world class wineries, but there's no doubt that a week within the home of these lush vineyards is guaranteed to promote the ultimate feeling of wellbeing.
Destinations Featured in the Article
Knowledge
Expertly Crafted
Value
Peace of Mind