Karen Bowerman ventures over active volcanoes, while a butler cleans her boots… It is a luxury expedition cruise after all
"Here, have a pear drop!" My guide, Josh, says, pulling a sticky packet from his pocket. "It's the one time in your life that eating sweets is good for you!"
I glance at him, puzzled.
"They coat your throat," he explains. "Help you to breathe!"
Given we're already wearing precautionary gas masks, I'm happy to heed his advice. I lift my mask up, pop a drop in my mouth and start sucking. Enthusiastically.
We're hiking, in searing heat, across White Island, New Zealand's oldest, active volcano. The smoking landscape – of ash, rubble and rock – resembles a bomb site. Steam shoots from underground vents. Mud pools bubble and there's a pervading smell of sulphur.
It's our first stop on a 15-day expedition cruise of New Zealand's sub-Antarctic isles: remote, largely uninhabited outcrops to the south and east of the mainland. Our voyage, from Auckland to Dunedin, calls at the Antipodes, Snares, Bounty, Campbell and Auckland Islands, although it'll be a few days before we reach the region proper.
White Island, on day three, is a chance to reacquaint ourselves with terra firma. Not that it's that stable; the ground is studded with seismologists' pegs, inserted to monitor movement.
At the island's crater lake, water "four times more corrosive than battery acid" boils beneath plumes of smoke. The atmosphere's so toxic it ruins Josh's trainers. "They disintegrate regularly," he says, "and every six months the bottom falls out of my backpack."
Life on our expedition ship, Silversea's Silver Discoverer, is a lot less challenging. There are 120 passengers on board, and with only 15 fewer crew, we're extremely well-catered for. After our White Island trek, I'm welcomed back onboard with champagne, as a butler whisks away my boots. An hour later they reappear, spotless, in my cabin.
We sail on, towards the Chatham Islands, 400 miles east of mainland New Zealand. We breakfast with binoculars, as seabirds ride our slipstream. Petrels and prions skim the waves. Albatross, with outstretched wings, soar close then steer away. Their proud, cartoon-like eyes seem to mock us because we can't just launch ourselves over the sea.
As we approach Chatham Rise, an underwater ridge known for its abundant marine life, Olive, our whale expert, shouts "Blow! Blow!" from the stern. Spouts of water indicate sperm whales. I spot, them lose them, in the swell. The pod passes within 300m of us, followed by a flying fish. Then the sea erupts with dolphins, diving over our wake.
At Chatham, one of the few inhabited islands, we meet Bruce and Liz who decided to set aside family land to preserve a native forest. "If we'd sold it, it would have been cultivated," Bruce says. "We didn't want to see a natural habitat, lost forever."
Instead, 2,000 acres of hills, streams and gullies are now home to the endemic Chatham Island pigeon. We're lucky enough to spot one, its purple feathers gleaming in the sun.
On day seven, as we approach the Bounty Islands, named by Captain Bligh just before the famous mutiny, we face an insurrection of our own; the weather turns.
The 40 mph winds and a 20ft swell cause havoc at dinner. We slide around in our chairs, saving what pinot gris we can. There's a smash of plates from the kitchen."That wasn't my fault!" someone wails.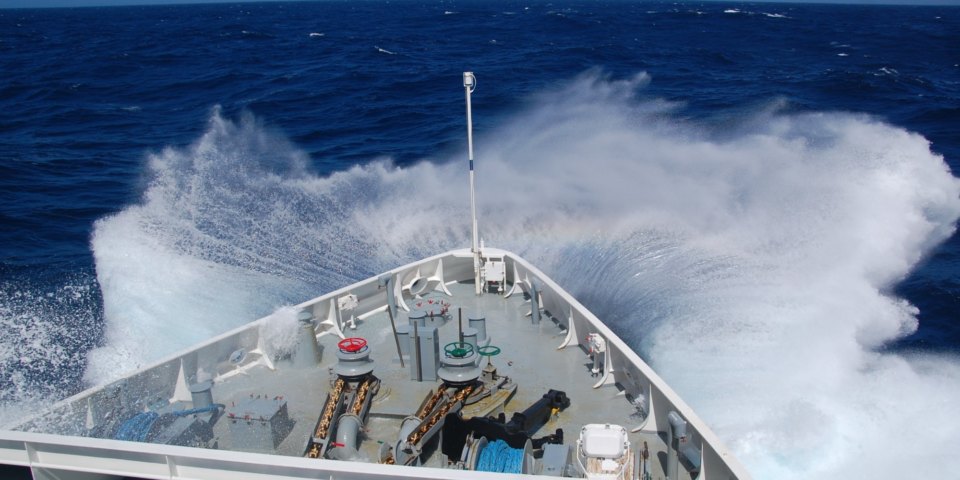 The morning brings calm seas and the monstrous granite cliffs of the Antipodes. We launch our inflatable zodiacs and explore, chugging into caves where kelp, trailing from rocks like Medusa's hair, swirls and unfurls with the tide.
A group of penguins, with markings that resemble balaclavas, march along the sand. It looks as if they're off on a bank job. A baby fur seal, with bulbous eyes, clocks us from the shore.
At Campbell Island, a boardwalk leads to a windswept plateau where, among yellow, conical-shaped ross lilies, southern royal albatross sit determinedly on tussocky nests. Their eggs take three months to hatch. The isle is considered the birds' most important breeding site. We stick to the trail, speak in whispers and leave them be.
But the wildlife has other ideas on Enderby, the most northern of the Auckland Islands, and our next stop. A group of us are respectfully side-stepping 30 or so sea lions sunning themselves on the shore, when a monstrous bull bounds off the beach and plonks itself right in my path.
Thanks to an onboard lecture, I know the drill: stand still. I fight one instinct, but forget another – not to look the creature in the eye. If I can't move, I feel compelled to stare. I freak the beast out and watch, in slow-motion, as half a ton of blubber and a mouth full of teeth, target my feet.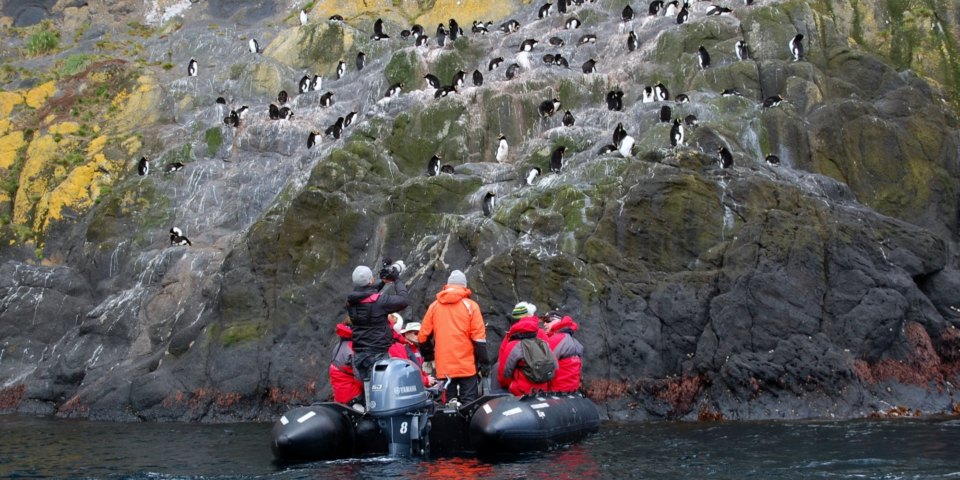 Our guide, Keith, intervenes. Appearing from nowhere, he brandishes a stick, shouts wildly and orders me to "Move!" I don't have to be told twice.
Our last stop is Ulva Island, a nature reserve, where species lost on the mainland have managed to survive. In a primeval forest dangling with orchids, a fat, flightless weka that resembles a grouse (and is rarer than a kiwi) lollops past.
Kari, a local conservationist, points out a kaka (a type of parrot) high in a red-flowered rata tree. She tells us the birds use their sharp bills deftly and so gently, that she didn't even panic the day she discovered her two year old son feeding them sesame seeds from his hand.
At the end of our walk, she crouches down and taps the soil to mimic rain. Moments later, a Stewart Island robin appears, searching for worms. The tiny black bird with a bright, white breast cocks its head and hops in and out of my feet.
"Nothing that looks like us has ever hurt him," Kari says. "That's why he's so tame." In this far-flung region of New Zealand, it's the way islanders want life to stay.
Destinations Featured in the Article
Knowledge
Expertly Crafted
Value
Peace of Mind