Follow the Road Less Travelled
If you've ever dreamt of embarking on an unforgettable safari adventure while surrounded by pristine wilderness and pampered with luxury, then Time + Tide Safari Camps in Zambia should be at the top of your travel wish list. Nestled within the heart of Africa, Time + Tide Luxury Safari Camps redefine the concept of an African safari, combining the best of wilderness exploration with the epitome of luxury. Time + Tide has 10 award winning properties, 9 in Zambia and 1 in Madagascar. Read on to find out more about Africa's greatest secret!
The Time + Tide story started over 70 years ago, when the legendary Norman Carr (the bold innovator of the walking safari) pioneered a community based safari experience in Zambia. Zambia is a treasure trove of untouched wilderness, unspoilt by large visitor numbers. The opportunity to explore these areas and see the wildlife without sharing the experience with many others is a privilege that's hard to find these days. Time + Tide are trailblazers in making remote African destinations easily accessible. What sets these camps apart is their unwavering commitment to preserving the natural world. By choosing to visit their destinations, guests actively contribute to their foundation, Time + Tide Foundation, whose commitment is to create educational and economic opportunities for some of the most traditionally undervalued communities.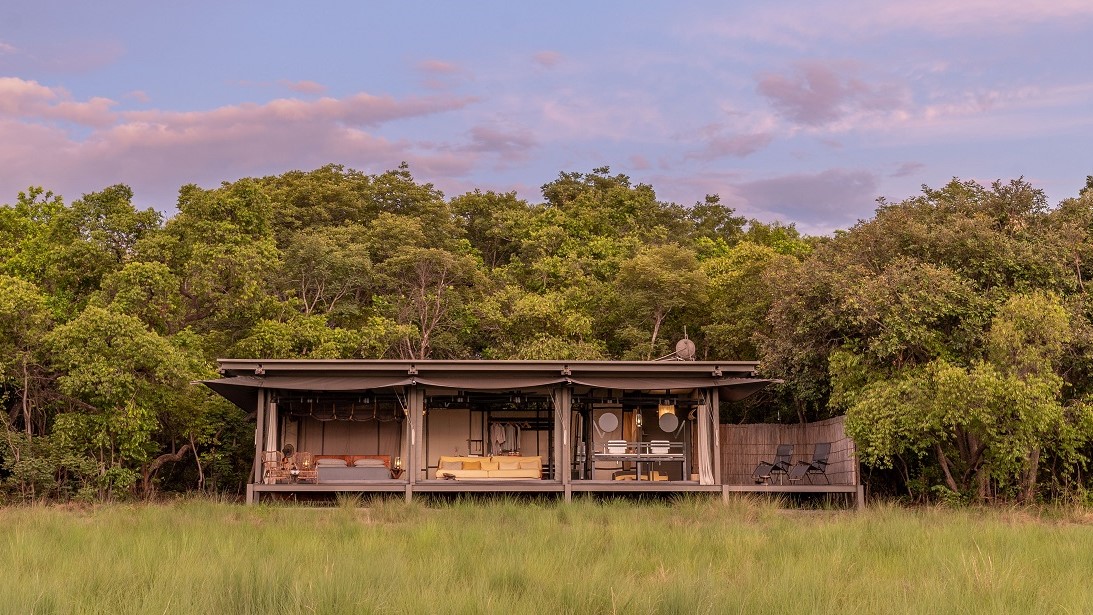 Luxurious Accommodation for the Discerning Traveller
Time + Tide's safari camps are strategically located in some of the most awe-inspiring and remote areas of Zambia, ensuring that guests can immerse themselves in the untamed beauty of Africa. Zambia's national parks, such as South Luangwa and Lower Zambezi, are renowned for their abundant wildlife and breathtaking landscapes. The camps are designed to offer guests unparalleled access to the diverse ecosystems and vibrant wildlife of the region, providing an authentic and up-close encounter with nature.
At Time + Tide, luxury goes hand in hand with sustainability and environmental responsibility. The safari camps are designed to have minimal impact on the environment while still providing guests with a sophisticated and indulgent experience. Expect to find elegantly appointed tents and suites equipped with all the amenities of a high-end hotel. Immerse yourself in the sounds of the wilderness as you relax on your private deck, which offers stunning views of the surrounding landscape.
Where are their camps located?
South Luangwa National Park - Best Place to see Leopards
Known as the Valley of the Leopard, it is in the South Luangwa that the legendary Norman Carr pioneered the walking safari and conservation-based tourism in Africa. Stretching out over 9,000 square kilometres and only an hour's flight away from Lusaka or Lilongwe, this unfenced and unspoiled wilderness feels a world away from modern life. South Luangwa is also known for its big cat sightings.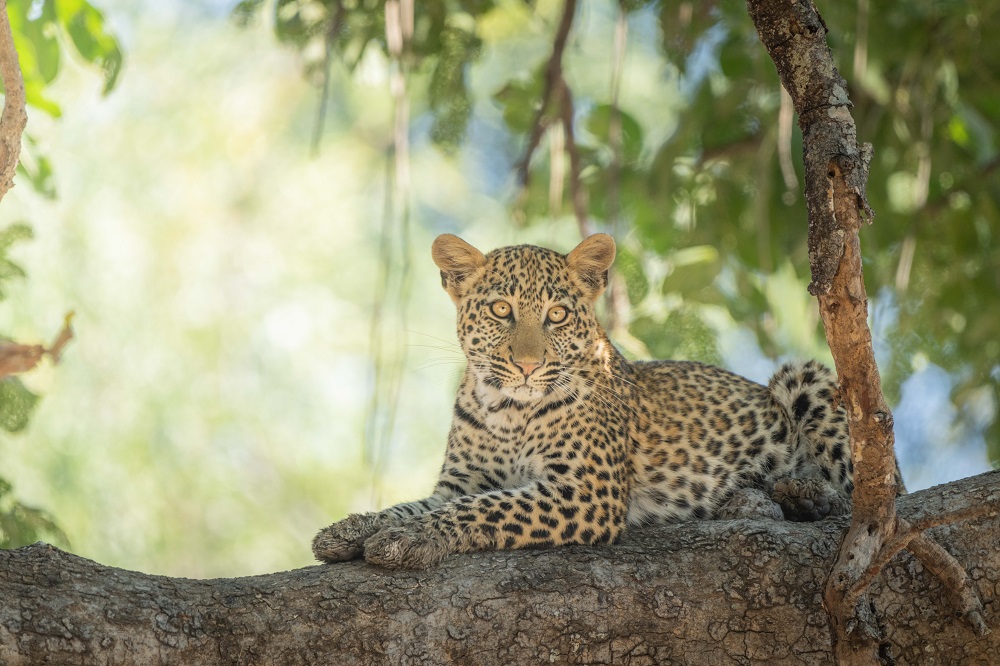 Set on the banks of South Luangwa's meandering Luangwa River, Chimzombo is one of the premier safari camps in Zambia, offering luxury accommodation while retaining a true sense of bush authenticity. Featuring modern and elegant design, a winding footpath connects the villas and lounge, dining, bar and fire pit area. Expect exceptional levels of service, excellent food and great facilities.
Mchenja Bush Camp is a stylish and intimate stay set on a sweeping bend of the Luangwa River, sheltered in a towering grove of ebony trees. Between superbly guided safari activities, relax back in camp and enjoy large herds of elephants crossing the river. For the ultimate wilderness experience, we recommend spending a night in a sleepout under a blanket of stars.

Set on the confluence of the Luwi and the main Luangwa River, Kakuli is the perfect base from which to explore the vast South Luangwa National Park by vehicle or on foot. The area is renowned for prolific sightings of lion and leopard, and for bird lovers there is a seasonal colony of beautiful carmine bee-eaters close to camp.
Located along a beautiful stretch of the seasonal Luwi River, Nsolo Bush Camp is a Lightfoot Travel favourite. The permanent river lagoon attracts a host of wildlife which you can view right from your suite's private deck. With the help of a guiding team, your time in this prime game-viewing area will provide an experience that will be hard to forget.

Set on the banks of the ephemeral Luwi River, Luwi Bush Camp is a simple and lovely place, offering a wonderfully remote experience with no other camps for miles around. The highlight here is definitely the extensive walking safaris exploring the dry Luwi riverbed. We recommend combining a stay at Luwi Bush Camp with Nsolo Bush Camp for a fantastic walking safari experience.
Liuwa Plain National Park - Best Place to see Wildebeest and Cheetah
Liuwa Plain's vast savannah is one of the oldest conservation areas in Africa. With its golden grasslands and shimmering lagoons, Liuwa Plain transforms with the arrival of the rains from vast grass plain to a watery wonderland. Feel the rhythm of the wildebeest herds as they move together, the wing beats of cranes taking flight and the distant rumble of a thunderstorm building on the horizon.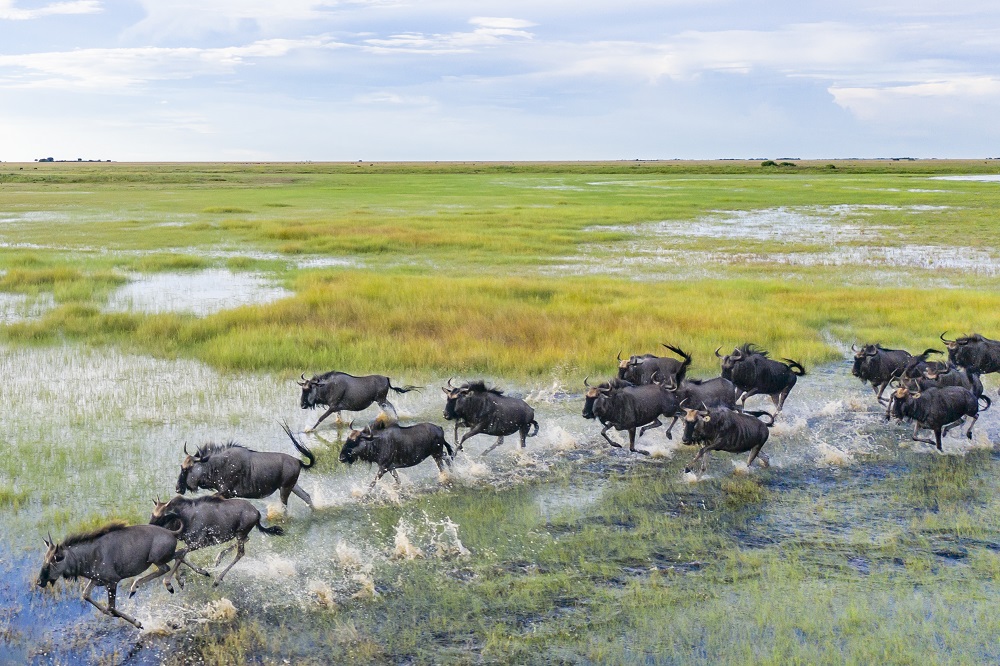 Time + Tide King Lewanika is the only permanent camp in Liuwa Plain National Park. Its six open-front luxury safari tents (including a two-bedroom, two-bathroom luxury family tent) are the essence of pure and simple luxury. Built using local techniques and sustainable materials, they run on solar power and are furnished using vintage leather, cotton and canvas—a nod to old-world safari days. Designed to completely immerse you in the vast landscape, each has an indoor and outdoor shower, a comfortable lounge and a verandah, all with stunning views over the vast plains.
Lower Zambezi National Park - Best Place to see Elephants
Nestled between the imposing mountain escarpment to the north and the mighty Zambezi River to the south, the Lower Zambezi Valley has a variety of activities that few, if any, other destinations can offer. It has been described by guests as their "happy place" because of its beautiful scenery, peaceful riverside woodlands and abundant wildlife. The Lower Zambezi is just a short 30 minute flight from Lusaka. This park in Zambia is still relatively undeveloped, but its beauty lies in its absolute remoteness and pure wilderness of it all. The opportunities to get close to the game wandering in and out of the Zambezi channels are spectacular. It is a great spot for fishing, and the river offers up plenty of healthy tiger fish and bream catches. Canoeing is a must-do and you can float down the river at your leisure with your guide who will give you opportunities to get as close as you dare to the game on the river banks.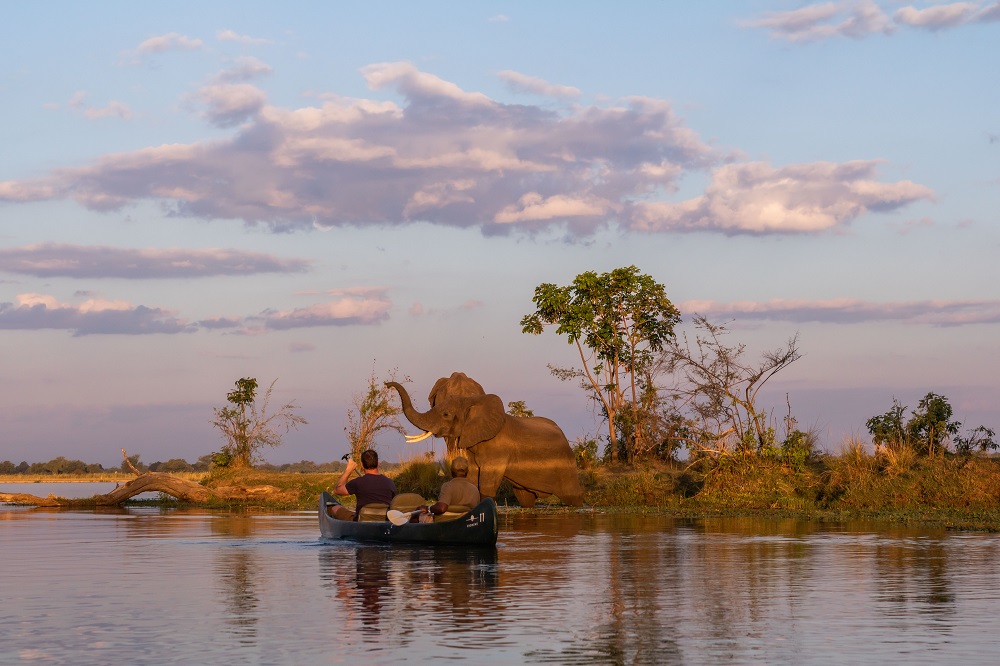 Located at the confluence of the Chongwe and Zambezi Rivers, Time + Tide Chongwe offers some of the best views of the Lower Zambezi, looking out across the waterways and against a mountainous backdrop. A real highlight here is the wildlife encounters within camp itself, notably elephants who frequently wander through camp in search of fresh seed pods.
Unforgettable Wildlife Encounters
One of the main highlights of a safari experience with Time + Tide is the chance to witness Africa's iconic wildlife in its natural habitat. Led by expert guides and trackers, guests embark on game drives and walking safaris, where they have the opportunity to spot the "Big Five" and other unique species, such as wild dogs, cheetahs, and zebras. The intimate knowledge of the local guides ensures that every safari is a personal and informative adventure.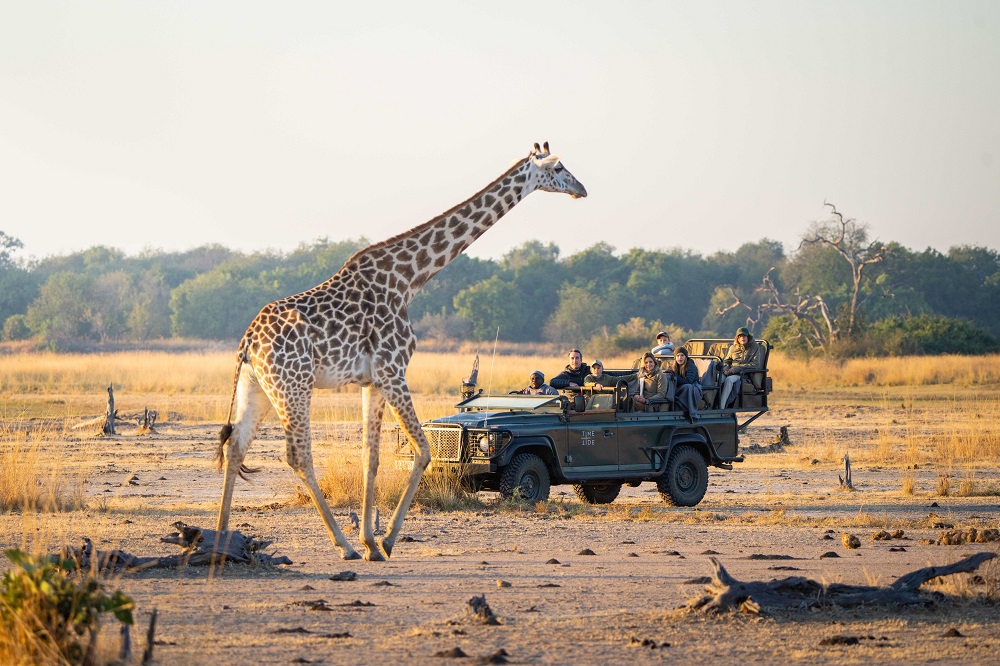 Experiential Activities Beyond Safari
Beyond the traditional game drives, guests can enjoy exclusive walking safaris, boat cruises along the Zambezi River where you can glide silently on a tranquil canoe safari, witness the drama of predator and prey during a thrilling night drive, or experience the magic of a traditional African storytelling session around a campfire. For the ultimate experience, you can return to the wild with their signature 'Sleepout Under the Stars'. Fall asleep under a canopy of millions of twinkling stars, listening to the sounds of the nighttime bush. A unique once in a lifetime experience!
A Commitment to Conservation
Time + Tide is dedicated to preserving the natural wonders of Zambia for future generations. The camps actively support conservation initiatives, working closely with local communities to promote sustainable practices and protect the environment. By choosing Time + Tide for your safari experience, you not only embark on a journey of a lifetime but contribute to the conservation that safeguards Zambia's precious ecosystems and the communities surrounding the National Parks through the efforts of Time + Tide Foundation.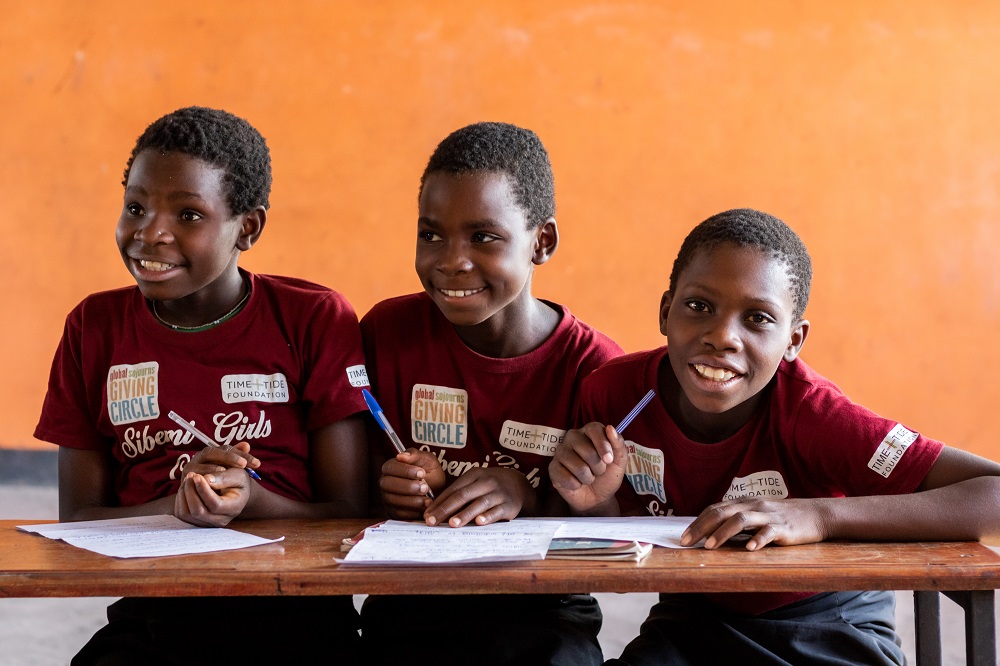 Destinations Featured in the Article
Knowledge
Expertly Crafted
Value
Peace of Mind