These jawdropping museums are almost as pretty as the exhibitions they contain inside. We highlight the new spaces that will be driving culture addicts wild this year. From private collections to exhibitions that are encouraging you to help save the world… you'll never think about museums in the same way again.
Contact
a Lightfoot Travel specialist to start planning today
Louvre Abu Dhabi, UAE
Jean Nouvel has created a museum that is set to become the crown jewel of Abu Dhabi. The flying saucer-like structure on Saadiyat Island has become a piece of art in itself. The domed canopy comprises more than 7,000 stars through which the sunlight will shine through, creating what that architect is calling the Rain of Light. The filtering of Abu Dhabi's harsh light has played a large part in the construction, which is why an ingenious system of blinds has been put in place to keep these priceless works safe. The museum will showcase works loaned by the French museums – such as Leonardo Da Vinci's La Belle Ferronniere, works by Henry Matisse and Vincent Van Gogh. But it has also been making its own acquisitions such as a page of the Quran in Kufic script from the ninth century.
Musee YSL Marrakech, Morocco
The life and work of one of the world's most iconic designers Yves Saint Laurent is celebrated at this new museum in Marrakech. The architects say that the outside of the building is designed to look like the warp and weft of fabric, while the inside of the museum is designed to look like the velvety lining of a couture jacket. Within the museum that has been created to look as sculptural as one of his pieces, you'll find some of his most famous garments, ateliers' sketches and more than 1,000 prints by some of the most renowned photographers, including Irving Penn, Richard Avedon and Helmut Newton.
Museum of Tomorrow, Rio de Janeiro
The newly opened Museu do Amanha (Museum of Tomorrow) was created to tackle one of the world's biggest concerns – sustainability. The futuristic building that shoots out towards the sun, uses 40 per cent less energy than conventional buildings. City of God director Fernando Meirelles has created a film on geological change that's projected in an egg shape cinema, while US artist Daniel Wurzel has created an installation that focuses on the flux of matter. And then you're faced with the destruction that the human race has caused, one being burning rainforests. If this doesn't have you thinking greener when you step outside, nothing will.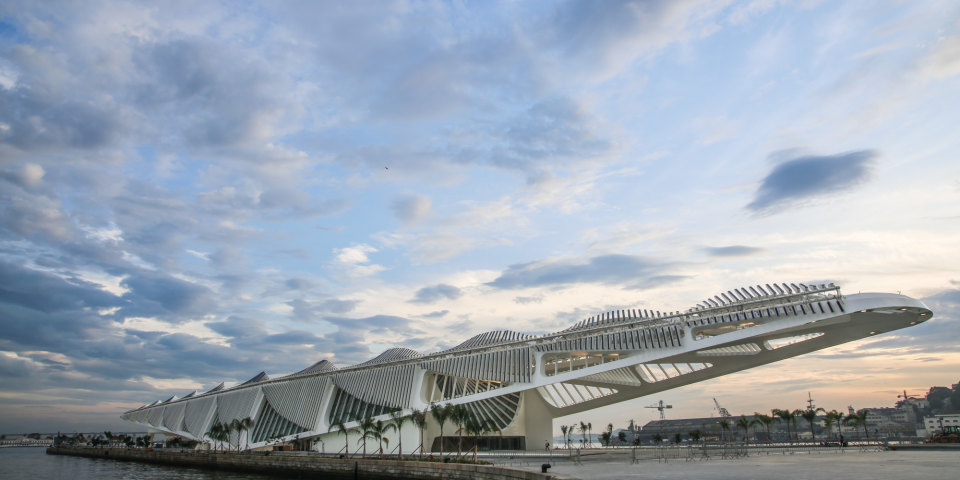 Fondazione Prada, Milan, Italy
After seven years in the making, the Fondazione Prada finally opened its doors in May 2015. No expenses seemed to have been spared with Rem Koolhaas's design. The 'haunted house' is painted in 24-carat gold leaf, and film director Wes Anderson designed the cafeteria, which features a bespoke pinball machine, jukebox and kitsch formica tables. So what does it contain? A car made from black feathers by Elmgreen & Dragset, an underground grotto by Thomas Demand and animated movies by Nathalie Djurberg.
Zeitz MoCAA, Cape Town
British architect Thomas Heatherwick is turning a former grain silo on the V&A Waterfront in Cape Town into a true statement piece. Spanning more than 9,500 square metres over nine floors, the museum will also contain a reading rooms, a restaurant and café, a bookshop and a sculpture garden. And if you feel the need to linger a little longer, don't worry as the top floors of the building have been given to Liz Biden to turn into the boutique hotel, The Silo. Within the four walls you will be able to see works by African contemporary artists such as Marlene Dumas, Nicholas Hlobo and Nandipha Mntambo, which are all from the private collection of former Puma CEO Jochen Zeitz.
Destinations Featured in the Article
Knowledge
Expertly Crafted
Value
Peace of Mind