Unless you've travelled to the Outback, you haven't really experienced Australia. The Ghan train carries guests between the state's steamy capital, Darwin, and the legendary frontier town of Alice Springs on one of the world's all-time great rail journeys. Lauren Jarvis climbs aboard…
Australia is a land of six states, 10 territories and many faces. Sydney's New South Wales is clean-cut and fresh, with perfect teeth and an eagle eye, eager to uncover the next Big Thing. Melbourne's Victoria is bespectacled, bookish and bearded, or hip and creative, sipping a coffee of the Chemex-brewed kind. Brisbane's Queensland is open, smiling and smart, sporting a glow from playing all day in the great outdoors. And the Northern Territory? While modern capital Darwin retains its glamour and gloss, its true face is worn by an Outback town called Alice: mysterious and wise, ancient eyes flashing an indomitable spirit – breathtaking, beautiful and wild.
I first came face-to-face with Alice 21 years ago on a visit to spend the waitress dollars I'd accrued on a working visa at Ayers Rock Resort near Uluru. Alice Springs was our nearest town, and the epitome of excitement for our straggly mob of temporary desert dwellers. It was a 10-hour round road trip to soak up its limited delights, found mainly under the roof of the exotic Lasseters Hotel Casino.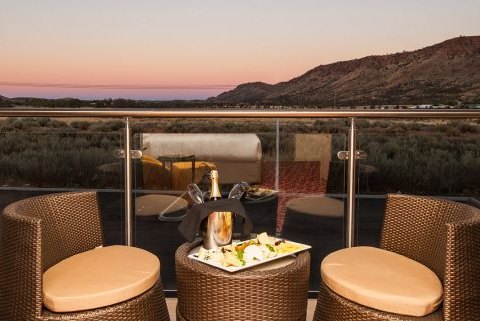 Years on, the Alice that greets me as I step down from The Ghan train on a sizzling summer morning is a calmer, classier broad. Boutique hotels squeeze in beside cafés serving flat whites and chai, and sit beside drinking dens where doors don't part in the middle. Lasseters has survived, glitzily revamped, with a fine-dining restaurant and spa, while festivals attract international guests, demanding more than 'roo burgers and wine-in-a-box.
But as the dry, desert heat sweeps up my body, thawing my air-conned skin from the train, and a familiarly sweet smell of eucalyptus trees fills the air, memories of the Alice I used to know flood back: the dreamers that swaggered and swirled downtown; the shops selling spellbinding Aboriginal art before 'Australian' souvenirs were sent in from China; and the dry Todd River that cuts through the town's middle, with indigenous Arrernte, the land's traditional owners, camped out on its scorching, salmon-coloured sand.
Alice Springs is a true 'frontier town' in the heart of Central Australia, and the midway stop-off point for The Ghan, which runs over 1,850 miles, linking the country's north and south coasts. In 1862, explorer John McDouall Stuart passed by, mapping and opening up the country's 'Red Centre' for white settlement. The Overland Telegraph Line connecting Darwin to Adelaide soon followed, with a telegraph station built near the permanent waterhole at Alice Springs, named after the wife of the former Postmaster General of Australia, Sir Charles Todd.
The railway line running from Adelaide to Alice was completed in 1929, replacing the camel trains that previously plied the route, and helping to transform Alice into a 'boom' town after gold was struck nearby in the late 1800s.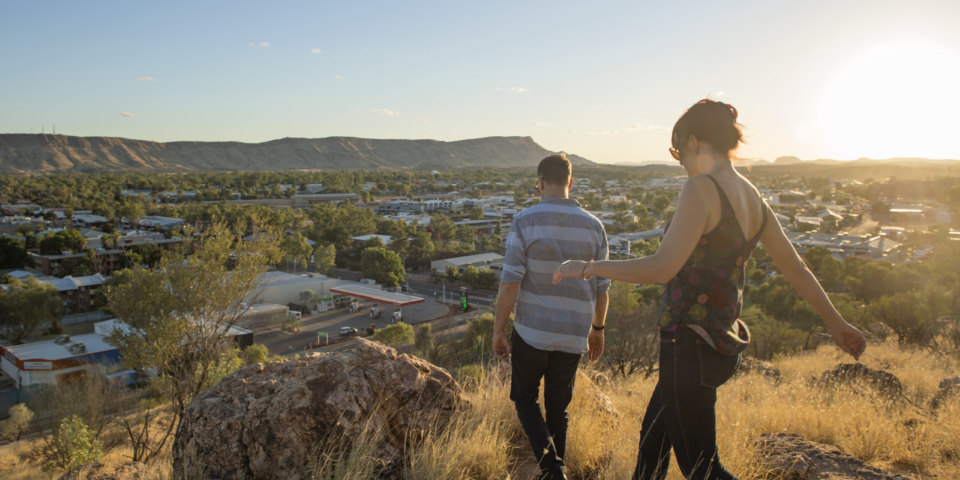 Named in honour of the Afghan cameleers that delivered supplies to the settlers striving to survive in this harsh and remote land, The Ghan train on which I'm whisked to Alice began its journey in Darwin, over 900 miles to the north. The route was opened in 2004, completing the railway's bisection of Australia.
Like the Orient Express or Flying Scotsman, The Ghan is one of the world's most iconic trains: a link to the glorious Golden Age of rail travel, when well-to-do passengers slumbered, wined and dined in style, as previously unchartered wildernesses suddenly became theirs to explore.
Boarding the train in tropically steamy Darwin is undoubtedly still an event. Many carriages are used for everyday travel from A (Darwin) to faraway B (Alice Springs) and even farther away C (Adelaide), or vice versa. But more opulent sleeper cars in Gold and Platinum class carry guests celebrating weddings, anniversaries and birthdays, or those simply wanting to see some good times roll.
For this trip, my personal ticket is golden. I'm shown to a private, twin-sleeper cabin with an en-suite bathroom, and a large window that will screen my journey through the Outback, as I travel past timeless mountain ranges and eventually wake up to a redder, sandier world. Cleverly compact, with its sleek, dark-wood interior and stylish three-seater couch that transforms magically into my bed while I'm at dinner, I'd be content to bunk down for the week, or at least the three nights offered in the new coast-to-coast 'Ghan Expedition'. Instead, I've just one night on board, cocooned in crisp cotton, weaving my own Dreamtime stories, as I sleep soundly under the desert sky.
We pull away just after 10am, and as the city's urban jungle soon gives way to the bush, I unpack, settle in and wander the train, before lunch is served in the Queen Adelaide Restaurant. Entering the elegant carriage, I'm immediately transported into the pages of a an Agatha Christie novel, my fellow diners potential suspects in a yet-to-be-written murder-mystery.
In reality, the only blood-red spillage on the gleaming, white tablecloths is a drop of my Margaret River cabernet savignon, as I lunch with a pleasant couple from Perth. Travelling the country post-retirement in true Aussie style, the only things to have disappeared by the end of the meal are their plates of saltwater barramundi and four accompanying beers. Nothing to interest Poirot here, apart from a cheeky, post-luncheon crème de menthe in the Outback Explorer Lounge.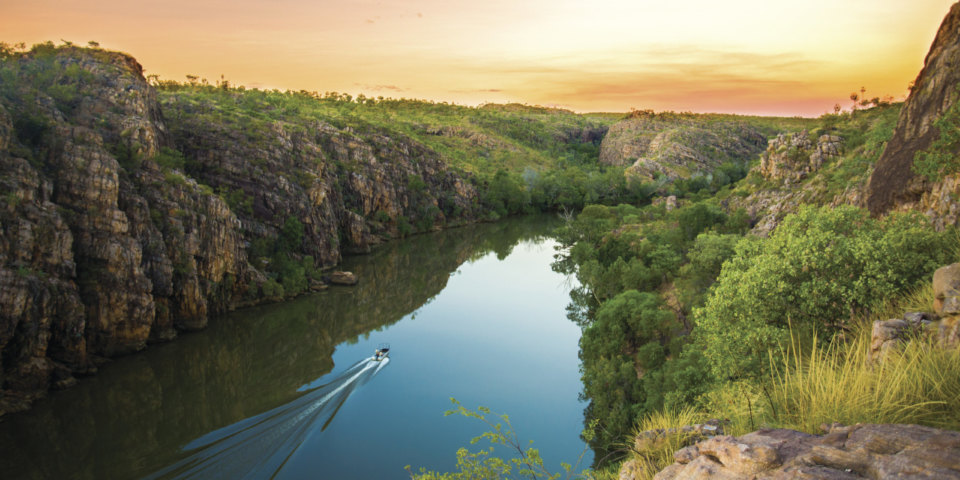 Wisely concluding that a rail journey this long needs a distraction or two beyond the dining car, The Ghan's Platinum and Gold tickets include a selection of off-train excursions at points of interest along the entire route. Guests can head underground to see subterranean homes and an opal mine at Coober Pedy, or hop off to experience the native wildlife at the Alice Springs Desert Park. My trip includes an afternoon cruise along the Katherine River, beneath the soaring sandstone cliffs of ancient Nitmiluk Gorge. The traditional land of the Jawoyn people, it's also home to some of Australia's oldest surviving indigenous rock art.
Optional upgrades add an extra 'wow', with scenic flights over the mighty monolith of Uluru, camel rides across desert dunes, and Outback dinners under a blanket of stars.
Back on board, I sink a sauvignon blanc in the lounge, as a burning sun sets over the increasingly ochre earth; bruising the sky with purples and pinks, gilding melaleuca and mulga trees with shimmering gold.
Dinner brings new dining partners, more wine and a delicate pumpkin and ricotta roulade with salsa verde: 21 years on, vegetarians are finally welcome in the Outback. There's chocolate and peanut butter delice to follow, before perfectly oozy camembert and crispy lavosh with fig jam mischievously plot to pop the button from my PJs.
I reach my destination next day by 9am, and after my last meal in the Queen Adelaide, I get ready to leave the train. As usual, I'm last off, and as I file out behind passengers meeting friends and hugging loved ones, here – as far from home as I could possibly be – I suddenly feel alone.
I walk out on to the street under a clear, cobalt sky and see the amber ridges of the MacDonnell Ranges reaching into the distance, as a warm breeze heated by sun-scorched desert sand whispers in my ear. Alice lifts her face to greet me, and all is well.
Destinations Featured in the Article
Knowledge
Expertly Crafted
Value
Peace of Mind