Roman ruins, Crusader castles, pine-clad islands and the home of Marco Polo… John Borthwick says how the Dalmatian coast is the perfect place for an adventure
This magnificent coast reveals, among other things, hundreds of beautiful islands and bays. Some parts are so striking that, following a trip to the region's Kornati archipelago, Irish playwright George Bernard Shaw declared rather lushly that, "On the last day of creation God desired to crown his work, and thus created the Kornati Islands out of tears, stars and breath."
Cruising on a chartered yacht in these barrier island-protected waters is plenty of fun for any moderately competent sailor. Alternatively, you may book a skipper and deckhand to run your boat. We've chartered a Grand Soleil 40 — a single-masted, 40-foot yacht with three cabins, good galley, bonsai bathroom and ample room for two couples.
WE ANCHOR AT THE AROMATIC, PINE-CLAD ST KLEMENT ISLAND NEAR HVAR. ITS TEAL BLUE WATERS DRAW US IN FOR ENDLESS SWIMS
"Dalmatia's about a thousand kilometres long and half a mile wide — and the best piece of the Mediterranean," enthuses my shipmate Trevor, mixing his measurements, but not his enthusiasms. We start near Biograd and head south for 13 lazy days towards Dubrovnik.
At one of our first ports, Sibenik, we dock in front St Jacob's cathedral, a World Heritage-listed marvel built of stone, but, it is said, with no mortar. Ashore, we enter a maze of stone alleys that are suddenly bright with fashion boutiques, bars, pizzerias and ice-cream shops. It's all a reminder of the serial invaders and rulers who have held sway here, from Greeks and Romans through Normans, Venetians, Austro-Hungarians and Cold War socialists.
"What I loved is the mystery — arriving somewhere and opening it like a book," says one of my sailing mates, Sharon. In that case, our next port, Trogir might read like a book of Middle Ages history. Its harbour is guarded by a 14th-century Crusader-style fortress on whose battlements you can almost see the ghosts of ancient archers defending the town. We moor in its shadow at a long, flag-stoned quay that's alive with yacht crews, travellers and schoolkids.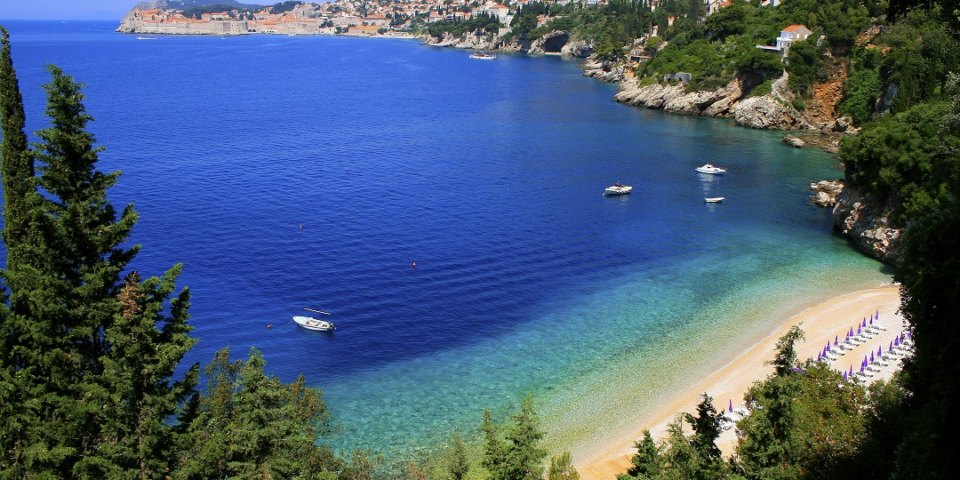 A few paces away is another medieval labyrinth of plazas, Moorish palaces and of course a cathedral. Much of Trogir's old town dates to the 13th century and, other than its ubiquitous pizzerias and "ice-creamerias", is World Heritage-protected. The streets of terracotta-tiled houses seem to be hewn from one massive block of pale limestone. Further down the coast is Split, the second largest city in Croatia after the capital Zagreb. Celebrated for its sprawling, 1700-year old palace of the Roman emperor Diocletian, Split's historic quarter is truly vast, but, even so, in summer is thronged by almost too many visitors.
This romantic Adriatic coast has 1,185 islands — only 47 of which are inhabited. Its ever-changing shoreline is, in turns, pine-clad, threadbare, indented with coves, stark with cliffs, lush, parched, dotted with villages or deserted — but always sunny.
We dawdle south on capricious winds, but smooth seas and spend a couple of days at anchor at the aromatic, pine-clad St Klement Island near Hvar. Its teal blue waters draw us in for endless swims. But this is no Robinson Crusoe trip. We row ashore and climb to the Meneghello family's restaurant. By local standards it is a relative newcomer — it's only been open for a century — but the land it stands on has been in the family for over 300 years, since late Venetian times. Lunch is a Croatian feast of grilled fish, lamb and squid ink risotto — historically delicious.
The harbour town of Hvar, encrusted with history and tourism, still stuns. Ruled by the Venetians from the early 1300s to the late 1700s, this is, understandably, one of the most popular spots in the Adriatic. Its centrepiece is a vast piazza flanked by St Stjepan cathedral and Renaissance palaces, all constructed in brilliant white limestone, shimmering against the cobalt blue bay.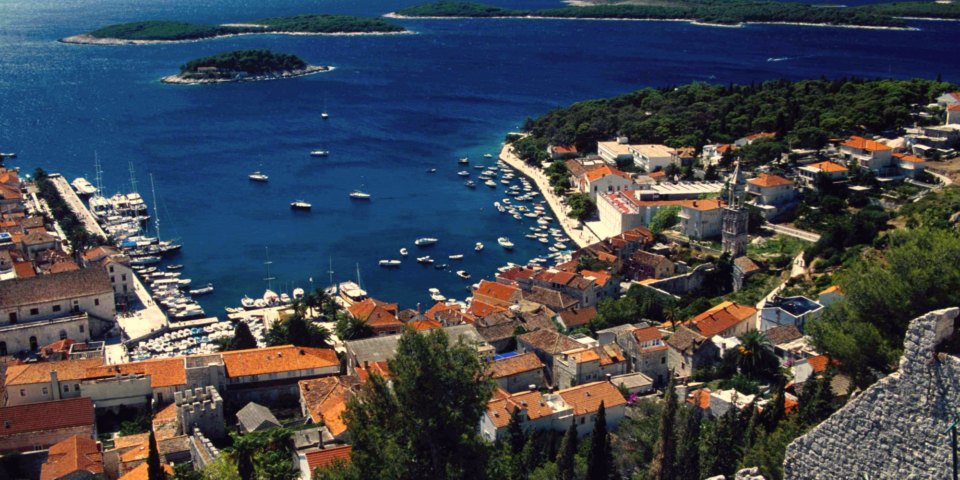 Korcula is on the bow. We swoop down its channel on good winds, docking at a modern marina beside the grand battlements, towers and turrets of its historic quarter. This, reputedly, was the birthplace in 1254 of Venetian-Genoese navigator and wanderer Marco Polo. He may have been born here, or not — several other spots around the Adriatic also claim him — but more importantly, Korcula is a place of intricate architecture, meandering, maze-like alleys and raucous little bars.
Sailing, plus eating well, is not all about slaving in the galley. On Mljet Island, for instance, we dock right alongside a restaurant at the hamlet of Polace. On the opposite bank stands a crumbling stone tower, part of a fourth century Roman garrison. The local road runs literally through the middle of the ruin. I watch as the local school bus squeezes through a gap with just millimetres separating its dented fenders from ancient Rome.
Mooring for our final night in a bay surrounded by pine forests, we raid the galley to conjure dinner from the last of our pasta, fish and wine. Later I drift to sleep on the deck beneath the sky's reef of galaxies. In the morning a quick plunge overboard is my heart-starter for our last day before the mast.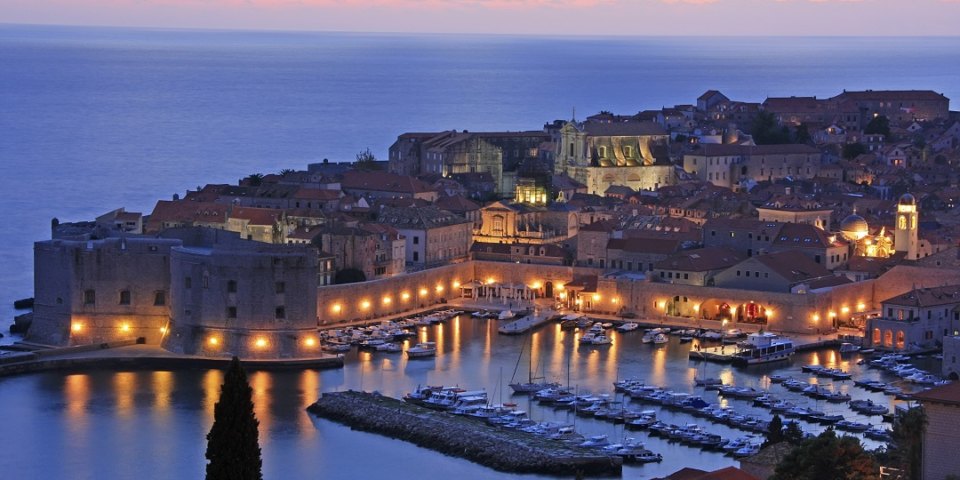 We cruise home beneath the honeycomb walls of Dubrovnik's Old Town. It still looks like the set for a costume drama that once would have been about Marco Polo, but these days Dubrovnik castle plays another role, as Kings Landing in television's Game of Thronesseries. Enclosed by two kilometres of colossal ramparts, this is the best-preserved Venetian walled city in the Mediterranean — a castle the size of a city. Within those walls are ornate churches, monasteries and Renaissance palaces, plus the homes of hundreds of ordinary Croatians.
We farewell our good yacht and explore streets where the limestone paving stones have been worn smooth by centuries of footfalls. Up on the battlements awash with golden Adriatic light I try to imagine footloose old Marco and Dubrovnik's days of Venetian glory. But this is high summer in the 21st century — instead I catch fleeting glimpses in the crowd of look-alike queens and knights from the Game of Thrones.
Destinations Featured in the Article
Knowledge
Expertly Crafted
Value
Peace of Mind