Mallorca's latest resident UK fashion designer Matthew Williamson takes us on a virtual tour of his new home
My first impression of Mallorca…
"I fell in love with Deià from the moment I first visited: it's charming, simple and relatively underdeveloped."
You love it so much that you've just bought a house there…
"My house is a labour of love and still coming together. The terraced garden was transformed for my mother's 70th birthday dinner and now I'm working on ideas for the pool and a guest house."
What's your favourite thing to do on your day off in Mallorca?
"A walk up the hillside to an old, derelict monastery with my dog, Mr Plum."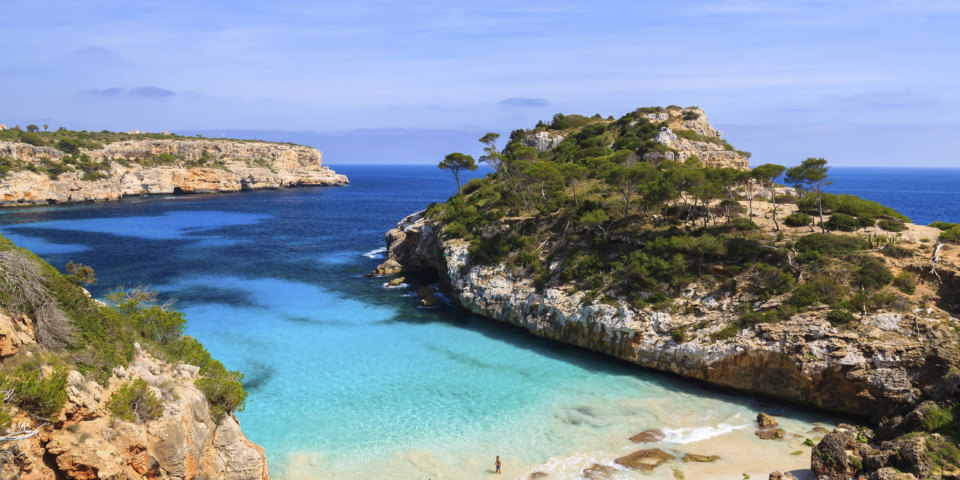 What are your favourite three favourite restaurants in Mallorca?
"I love Son Mico. It's a gorgeous rural finca between Soller and Deià, set amongst the olive groves and overlooking the coast. All of the food is homemade by the owners. I love simple, fresh Mediterranean food and usually go for their daily special."
"Oleum is set in a wonderful old olive mill, which has been lovingly restored and modernised. It still has the olive press still in place. Their fine dining is great for a special occasion, but the super friendly staff are just as happy to serve you chicken and chips if you prefer."
"Another favourite place to eat is Duke in Santa Catalina. It's a very informal affair with a relaxed atmosphere mostly serving the hip residents of the area who visit regularly. The service is great and the locally sourced food is even better."
Where's the best place to have a cocktail in Mallorca?
"It has to be Nama Bar in Deià that opened last month. I designed the interiors, which was a dream project for me. The space is made up of three main areas: the roof terrace, blue room and the cocktail bar area itself. Each space combines authentic Spanish vintage and modern pieces set against a backdrop of deep and intense colour and ornate wallpaper designs from my collections, featuring peacock feathers, flamingos and parrots. I've also had some great nights at Sa Fonda – an unassuming bar with live music, twinkling lights and a crowd that parties late into the night."
What about the best place to buy a coffee in Mallorca?
"A trip to Valldemossa for a walk and coffee at the Cafe Cappuccino."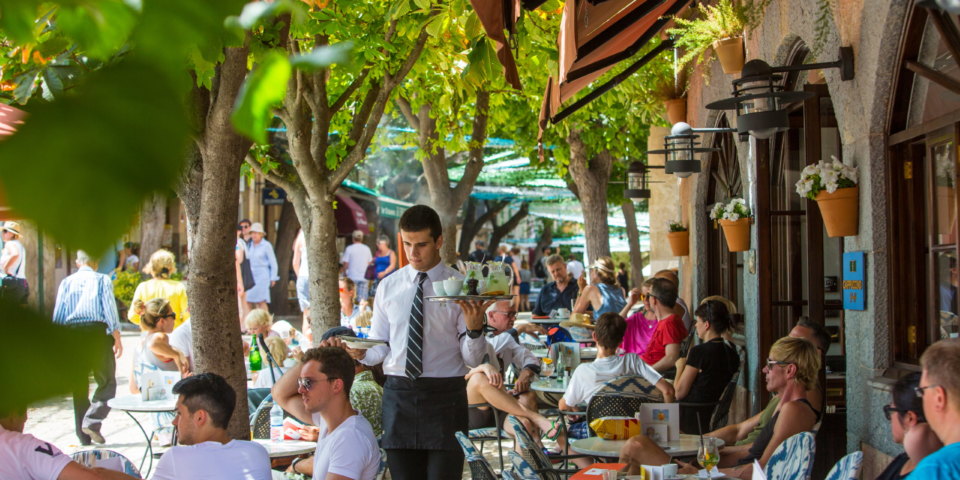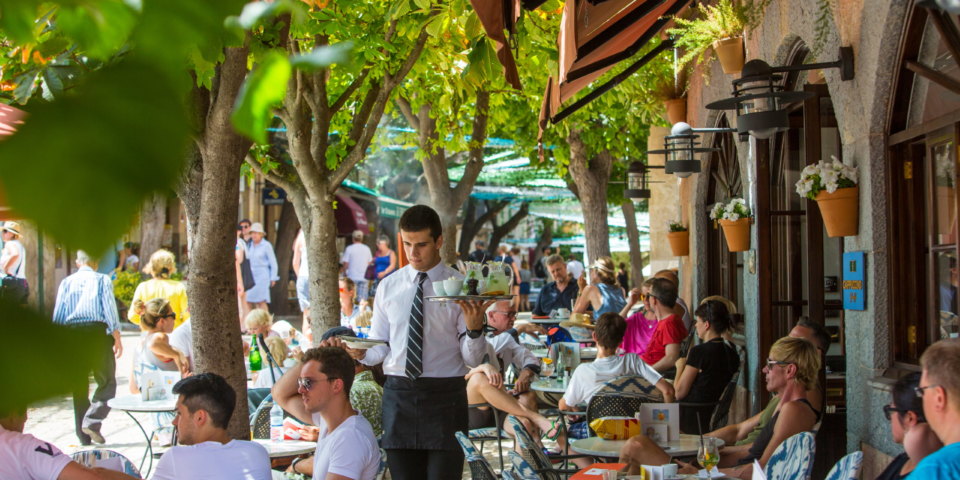 Where should we go for interior buys?
"For interior inspiration, I especially love the Sluiz and Rialto Living stores in Palma. Then the Santa Catalina area in the town is just fantastic for a wander – lots of boutiques and cafés."
What's the one sight a visitor needs to see before they leave Mallorca?
"I would suggest a visit to the Gaudi constructed cathedral, then head outside and get lost in the narrow streets of the old town. If you keep walking you are sure to come across one off the many hidden and lesser known pretty squares with original buildings, stores and cafes. "
Which souvenir should visitors take home from Mallorca?
"I'd go for something crafted and original. Either Spanish ceramic plates or some great hand blown, coloured glass. You often come across little independent stores in the centre of Palma specialising in one item such as these with a wonderful array and choice."
STAY WITH MATTHEW… (SORT OF)
Lovers of Matthew Williamson's designs will be thrilled to know that he has designed a bespoke suite for Belmond La Residencia in Deia. Here's a sneak peek of where you could stay…
What do you want people to think and feel when they see your suite at the Belmond La Residencia?
"I guess I'd like visitors to want to come back again. That would be the biggest compliment. That they felt relaxed as if staying in a home from home. The suite has great attention to detail paying respect to its location and the hotels design philosophy but with more of a colourful, fashionable impact."
Tell us about your favourite part of the suite…
"It's probably the lounge. I've painted the walls soft blush pink and framed botanical prints on one wall above a lemon yellow sofa and comfy floral armchairs in my printed fabrics. The floor has original terracotta clay tiles and the room has wonderful view out onto its own private pool and dining table under an ancient olive tree looking out towards the pretty town below."
Destinations Featured in the Article
Knowledge
Expertly Crafted
Value
Peace of Mind