Belinda Luksic encourages you to travel to Lecce in Puglia, where the rustic peasant fare known as cucina povera is celebrated and 'la grand passeggiata' (the evening promenade) is the thing to do
Life moves at a slow pace in Lecce. Maybe it's the Mediterranean sun, hot even in May, which casts a languid spell over everything and bathes the Baroque buildings of this 'Florence of the South' in a soft apricot glow.
Perhaps it's siesta, which in Puglia, the heel of Italy's boot, is long and leisurely. When the cathedral bell tolls the lunch hour of 1 pm, we watch as one by one, the shopkeepers and restaurateurs close for the afternoon riposo, shuttering their windows and doors against the shimmering heat.
Located in the tip of the heel, Lecce was once the capital of Salento, a seat of power and riches flanked by wind-buffeted plains covered in thousand-year-old olive groves. On the drive to Lecce, we see rows of gnarled and twisted trees stretch all the way to the sea.
This is a place where time seems to have stood still. Evenings are given over to la passeggiata, the slow promenade that is one of Italy's charming traditions. Espresso – here called caffe leccese – is served over ice with a sweet stab of almond milk. Cucina povera, the simple farm-to-table cuisine celebrated everywhere in Puglia, is a meal best shared with good friends and family.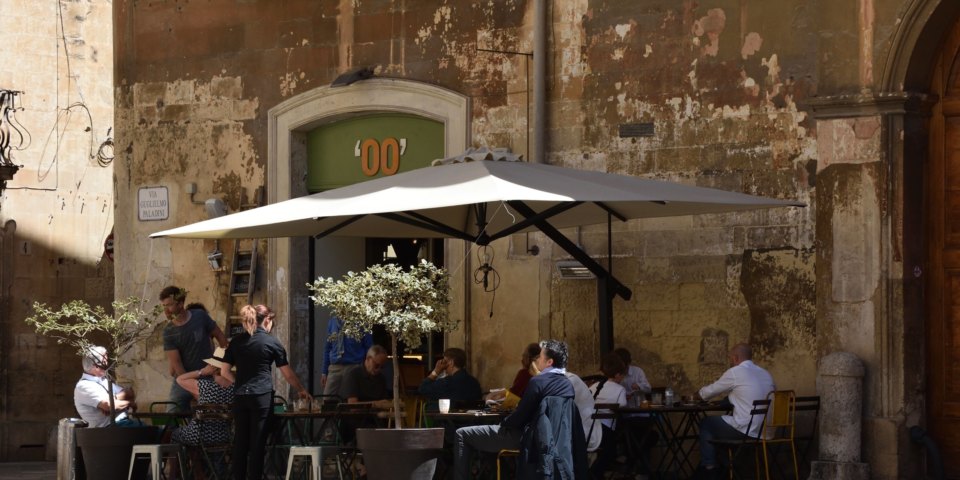 "I cook the recipes from my mother and grandmother taught to me," says chef Gianna Greco. Together with her daughter Maya, she runs classes in a 17th-century monastery in the backstreets of Lecce.
It is, she says, good food cooked simply that makes use of whatever is fresh, inexpensive or at hand. Pasta is made without egg, greens are foraged and seafood is fished straight from the sea and eaten raw without so much as a squeeze of lemon. The region is home to burrata cheese, orecchiette pasta and crunchy taralli biscuits.
"I use very fresh ingredients, just in season. In the restaurants, it's possible to find eggplant even though it is not fresh now, or tomatoes from Sicily, when there are none in season here," says Gianna.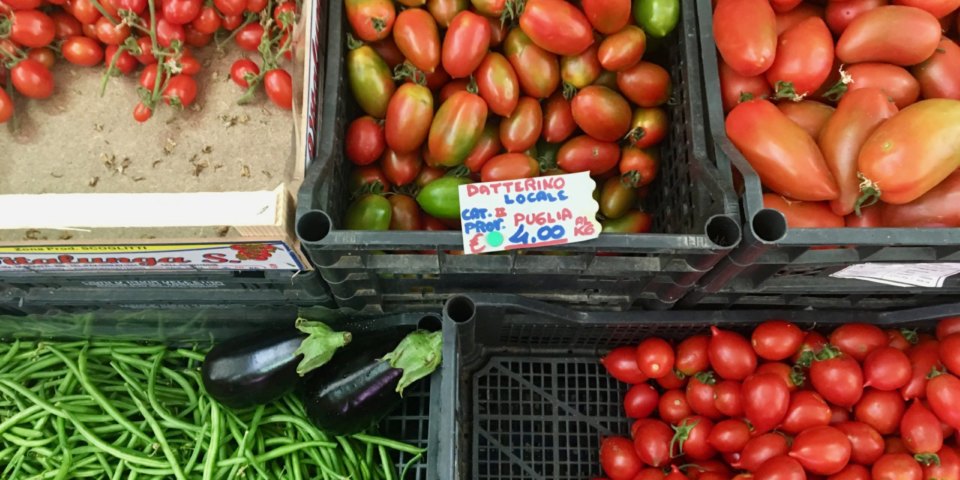 Our morning is spent preparing a humble Salento lunch. We bake focaccia dough, dotted with plump cherry tomatoes, and twirl pasta into orecchiette cups we then cook in boiling water. We throw fat fava beans and artichokes into the soup and wrap pork around slices of prosciutto and local cavocollo cheese and fry until golden.
There is wine. Gianna is a trained sommelier, and as well as teaching us to cook, we learn about terroir, palate and the nose of local Salento wines. Soon enough we're sitting down to our humble feast that in summer is served outdoors in the pretty bougainvillaea-filled courtyard.
While Lecce has no shortage of palazzo and hotel accommodation, it's the masserie that make for a special stay. Unique to Puglia and originally designed to keep out marauding armies and pirates who once roamed these lands, today many are being turned into luxury boltholes and rustic farm stays.
On arrival at our masserie – a magnificent 16th-century restored farmhouse on the outskirts of Lecce, a prosecco is pressed into our hands; we wander the lush walled gardens thick with the scent of lemons, oranges, mandarins and plums, and stop to eat ripe mulberries from low-hanging branches. There are garden hammocks in secluded spots, a croquet lawn, and an elegant pool area with sunbeds. Dinner is by candlelight – a simple three-course meal of local and seasonal produce served by the citrus orchard.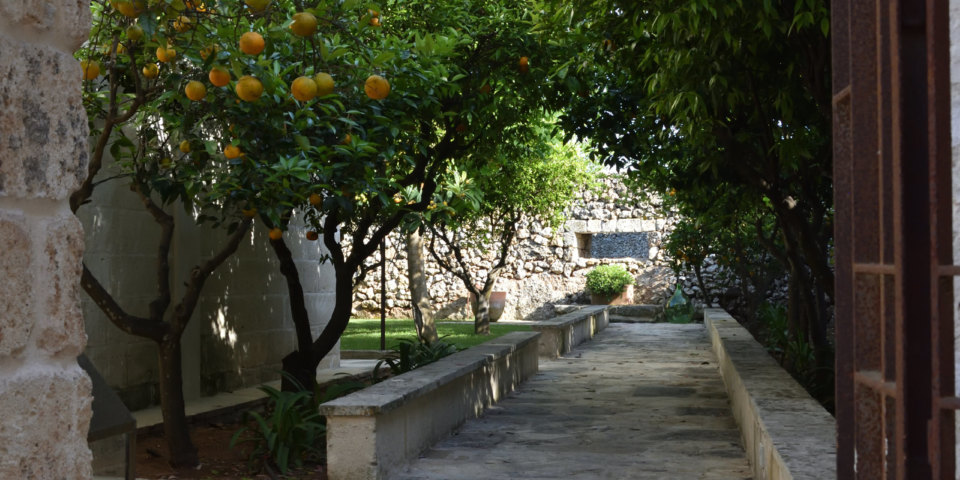 During the quiet of siesta the next day, we set out to explore the old town. First settled by the Messape and conquered by the Romans before falling to the Normans, Lecce has a rich heritage. But it was the Spanish, and the sculptors of the 16th and 17th centuries, notably Giuseppe Zimbalo, who transformed the town into the ornate UNESCO-protected splendour it is today.
First stop is the dazzling Piazza del Duomo, one of the best examples of the so-called barocco leccesse – a massive square bounded on three sides by a cathedral, bishop's seminary and five-story campanile and hewn from Lecce's soft buttery limestone.
Here, ornate facades cover richly decorated buildings. Cherubs float above fat blooms, harvest pumpkins and fruit. Gargoyles leer grotesquely from upper ledges and asparagus columns frame statues of saints.
Down the road is Basilica Santa Croce, under wraps when we visit for restoration work, but known for its façade depicting grotesque and monstrous devils, gargoyles and imps. Inside it is stunning, with vaulted ceilings, intricate murals and an extravagant white and gold sunburst altar.
We pass houses behind which we can make out the faint strains of laughter and feasting, and come upon an endless stream of the ornate palazzo, civic buildings and churches. At every turn, down narrow cobblestone walkways and inside small squares, there is something to marvel at – a handsome stone flourish above a doorway, a decorative pediment or sinuous swirl to a balcony railing.
Lecce is home to papier-mache artists and in the busier parts of the city, we descend staircases and enter cool grottoes filled with generations-old craftspeople and elaborate statues of saints, quirky characters and nativity settings.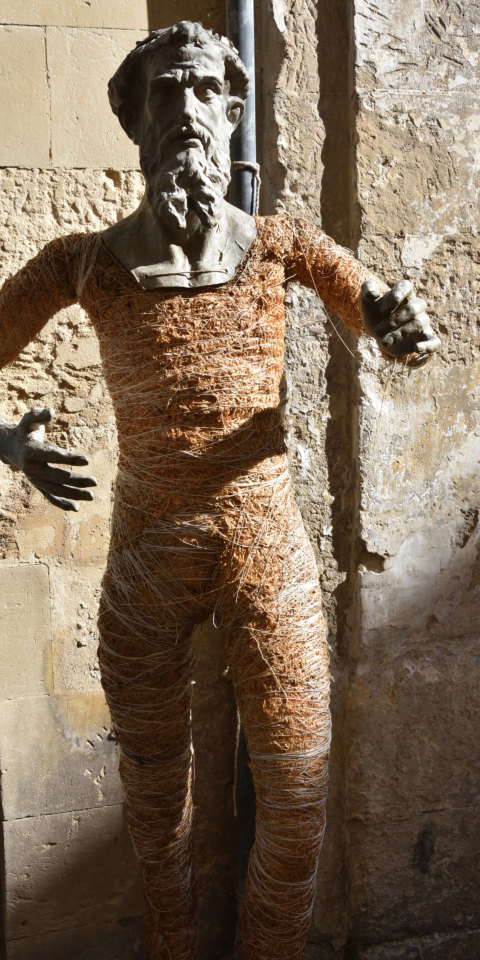 As the sun drops low in the sky, we chance upon the Piazza sant'Oronzo, the largest square within the city walls and site of a half-unearthed Roman amphitheatre. It's an incongruous sight surrounded by austere edifices from the Fascist regime, brightly lit bars and cafes. At night, the amphitheatre is the scene of many a performance and spectacle.
The air is filled with the warm aroma of fresh pastries. Tempted, we order an espresso and some treats and settle back at one of the outdoor bars to watch the world go by. It's oh so sweet.
Destinations Featured in the Article
Knowledge
Expertly Crafted
Value
Peace of Mind