Oliver Bennett and his son Bruno hit the airport and set off on a boys' own adventure to
Iceland
Basalt fields, snow dusted mountains and a gunmetal sea… it was clear that our adventure had already started. My son Bruno, 15, and I had left Iceland's Keflavík International Airport, picked up a hire car, and drove straight into what appeared to be an epic fantasy novel. The asphalt road that stretched out in front of us snaked its way through a mythical landscape that was filled with mountains, volcanoes and glaciers and populated by people who looked like Thor. This really was the place of legends. And a quick flick through the guide book showed that the country was filled with adventures too – perfect for our first ever father and son bonding trip.
Within 30 minutes we mustered in Reykjavik, the most northerly capital city in the world. Unlike other major capitals, this was a city free of skyscrapers… in their place were rows of colourful houses topped by corrugated iron roofs. Bruno and I walked along Laugavegur, Reykjavik's main shopping street, which was selling cups of steaming artisan coffee to tourists, as well as an Icelandic sweater or two. We then strolled on to see the city's most famous sight, the rocket-like Hallgrímskirkja church that looks as if it had been plucked straight out of Asgard.
Down the stream we gambolled
But as striking as the city was, we knew that the main attraction for Rekyavik was the raw nature on its outskirts. So we jumped back into the car and set off along the famed Route 1 – the road that tracks around Iceland and passes Mount Esja, Reykjavik's brooding backdrop. Bruno dubbed this 900-metre high mountain 'tiramisu' for its sugar-like snow dusting.
We felt excited from the moment we arrived. As two Londoners, we loved the real sense of open space. As Iceland has few trees and very few high buildings, you're always looking at the distance which is itself relaxing.
As we got more remote and Rekyavik became merely a blip in the rear view mirror, the road dropped into a raw two-laner and followed fiercer shores. Stark hills dribbled with waterfalls while that chilly sea glowered on the other side. We passed small settlements, crossed glacial rivers, by-passed mountains and took in Iceland's ever-present long horizons.
Along the way we snacked on what we decided was Iceland's real national dish, the hot-dog. We found it being served at every petrol station, and it was reasonably priced and bearable.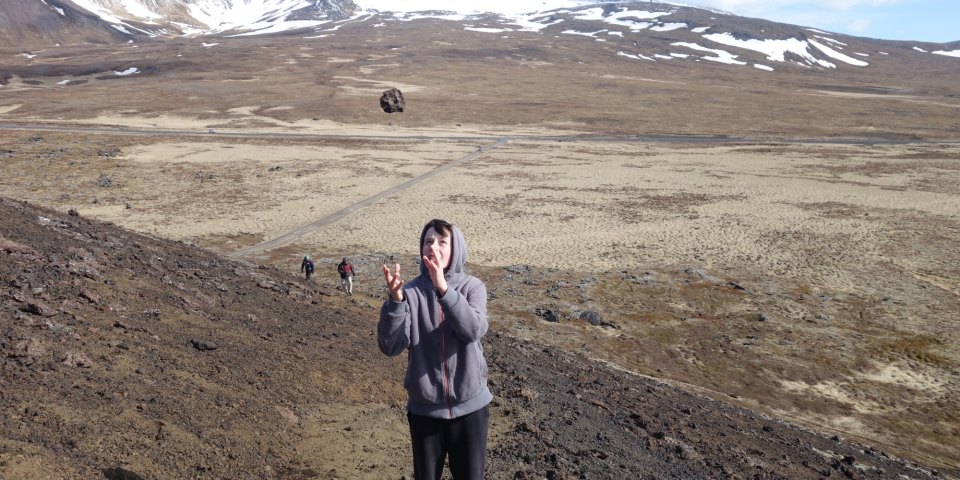 At a little fishing town called Rif in the Snaefellness Peninsula we stayed over. We took glorious walks in redundant, blown-out volcanoes, strolled through old ash fields, and signed up for a short (guided) stroll on a glacier near the big white cap of the Snæfellsjökull volcano, known as the 'crown of Iceland'. We then drove down to nearby Ólafsvík harbour to go whale watching.
While everyone shivered in the bracing air, the deck hands scouted the sea. Just as everyone was getting twitchy the skipper shouted "Sperm whale at nine o'clock" and after that point eight more appeared. But the boat was rolling and after a while we retired below as we felt cold and nauseous. It was amazing to see the whales, but after three hours out at sea it was good to return to shore.
After just one day in Iceland we were already getting a serious adrenalin fix – but the best was yet to come. We headed back towards Rekyavik, taking a different, inland route, to follow the route of a tour in Iceland called the 'Golden Circle' which starts in þingvellir National Park.
Here the tectonic plates part – as if two cliffs facing off against each other – and where, if you're interested in Game of Thrones, the civil war for the Iron Throne of the Seven Kingdoms takes place. This is somewhere that Bruno wanted to go and I let him lead me on a special Games of Thrones walk. It's a dramatic, elemental place, with that rocky rift like a giant scar in the landscape. Bruno and I walked, having the odd mock-GoT fight in the rocks and then, as if þingvellir wasn't geologically exciting enough, headed a few miles up the road to Strokkur geyser, a field full of bubbling springs with a centrepiece that spouts once every 10 minutes or so. Around it tourists gathered, waiting for that perfect photographic moment – only to be hit by hot spray.
Travelling with Bruno was a treat. We did a lot of talking – not all laddish 'banter' either. Bruno has always been a really engaged boy, but as we were walking up the mountainside he impressed me with his interest and knowledge of geography – and his willingness to talk to other travellers.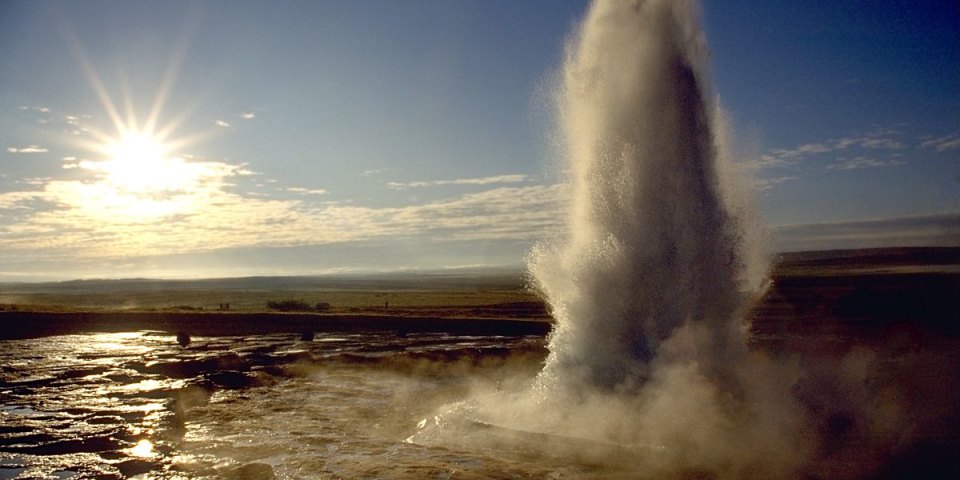 The other key sight of the Golden Circle is the equally-awesome gushing waterfall Gullfoss, and as it turned out, this plume heralded our holiday's great adventure: rafting on the very same river as the falls, the Hvita.
We drove downstream of Gullfoss to where the river was merely fast rather than a torrent, and found our river rafting hosts: a rustic hut with tea, snacks and laid-back guides.
Bruno and I sat awhile, waiting for our slot. Then we were called, and our small group took in a somewhat scary, but amusing safety announcement before donning a wetsuit, grabbing a paddle and heading to a rickety old school bus.
Ten raucous and bumpy minutes later we decamped at the river and climbed into large ribs, which the guides pushed to the Hvítá river. "Keep your limbs inside the boat," shouted the guide over the noise of the water. "And try not to fall out – we'll have to go back for you and it's a real drag."
We set off and soon found out – this water was cold. Freezing, milky-coloured snow-melt, fresh from the mountains. Down the stream we gambolled, our rib hurtling through rocky white water, past basalt outcrops, through gorges, over pumping rapids and between pools of calmer water.
At first Bruno was exhilarated. He whooped as we went over the first lot of rapids. Later on, he got a bit cold and his teeth were chattering. I had to lend him my gloves. But he still loved it. "The scenery is amazing Dad," he said.
An hour or two later we turned into the home strait, and there we risked it all and jumped into the water, yelling with joy in the icy water. Then, with teeth still chattering, we clambered back onto the old bus to head back to the ranch. Back there we grabbed a cup of tea, peeled off those sodden wetsuits, then had a raucous sauna. It was exhilarating stuff. I might not have done the river rafting by myself, but as Bruno was so keen we added it to our boys' own adventure. I'm so glad I did as it was amazing.
After the rafting, replete with that inner glow that comes after immersion in cold water, we set off down the road, through yet more otherworldly landscapes towards South Iceland, joining the Route 1 eastward in full Top Gear glory: sea to one side, mountains on the other. We stopped at the Seljavallalaug swimming pool: the first such pool in Iceland, fed by hot emerald-green water fresh from the bowels of the earth. We hopped in to the piping-38 degree pool and swum beneath an amphitheatre of mountains, where summer snow made great piebald patches on the grey-black basalt.
After a cosy night's sleep we headed to see the great hulking form of Sólheimajökull glacier; retreating slowly from the sea. Then as a leaving gift to ourselves, went for a wallow in the famous Blue Lagoon, possibly the world's most famous swimming pool, probably the best preparation for a flight in the world. We eased our adventure-battered bodies into the steaming water, covered ourselves in the silica mud and gazed out over the black lava fields. "I've ticked off so many things on my bucket list now," said Bruno.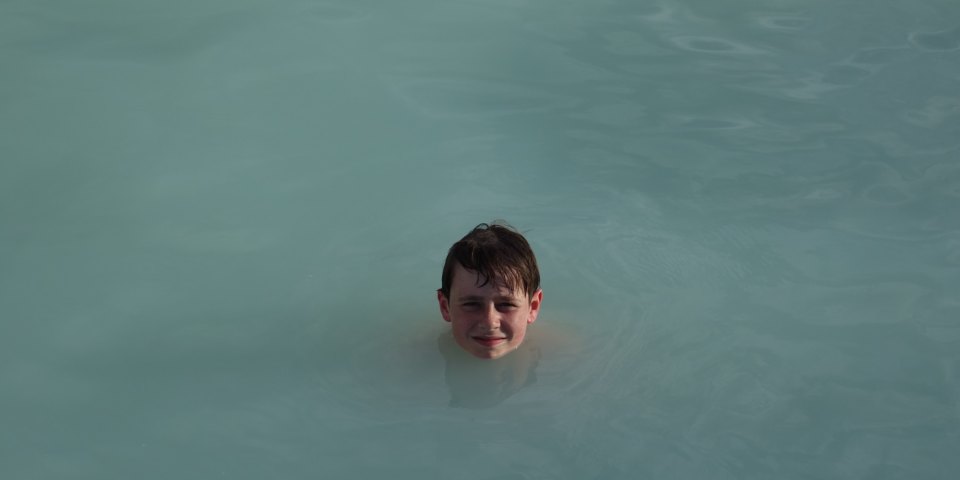 Destinations Featured in the Article
Knowledge
Expertly Crafted
Value
Peace of Mind