Mummy blogger Tania Reinert of Nika Kai Travels says how you can make short work of a long haul flight
MAKE AN INFLIGHT ENTERTAINMENT KIT
The pillar of my entertainment offensive is a mini inflight entertainment kit. I make sure that they don't see it until they have actually sat down on the plane. The contents change each time, but I've found that the following items proved to be very successful.
Postcards to send home – I pack pencils and small postcards for some inflight scribbling.
Old favourites – Nothing comforts a tot more than a familiar toy. I always pack two or three of their favourite Schleich animals or Duplo figures.
New surprises – A new toy to play with passes an hour or so instantly. In the past I've plumped for one or two new toys, such as a lightweight wooden worm and a small bear pouch that can be used on the trip.
Old school stationary – They don't always need an iPad to entertain them. A bundle of Post-it Notes, paper clips, teeny pegs and small notebooks will turn into an array of mini creations.
Sneaky snacks – Go for an organic lollipop or a small bag of crackers. A low sugar lollipop also helps if their ears get blocked on the plane.
Skinny books – Throw in some lightweight reading books as well as some Melissa & Doug sticker books.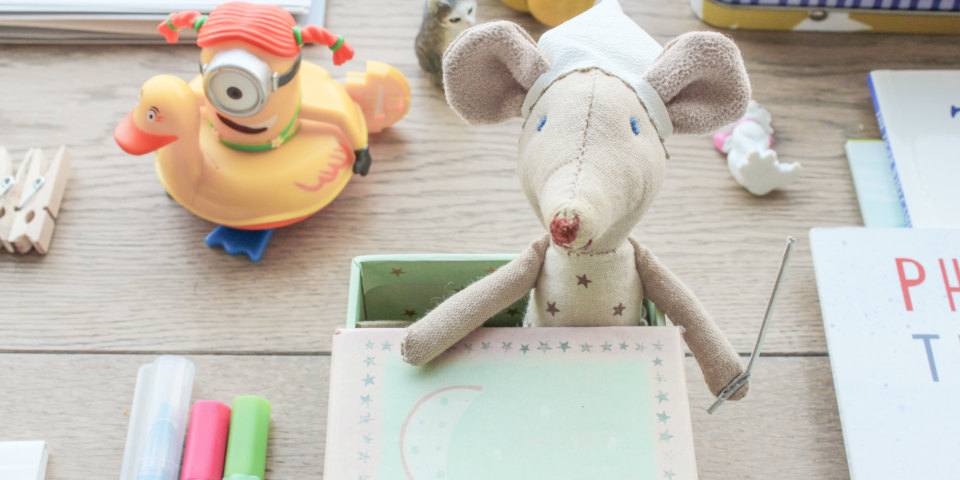 CHANGE THE RULES
My daughter is allowed zero TV time at home, but when on a flight rules go out of the window. On our last flight, she loved watching the Secret Life Of Pets. We made it interactive too by her asking me questions about some of the animals on screen.
CREATE A NAP SPACE
If you take a carrier on board, you've created an instead space for a power nap. Some kids just don't sleep on the plane and with every minute of them resisting you will just get more and more frustrated, but if your tot's sleepy, you're prepared.
TAKE FUN SNACKS
A few mystery snack boxes not only boost their nutrition levels mid-flight, but can also make great entertainment. White grapes, veggie sticks, popcorn or trail mix will create instant interest and if you choose small boxes you reduce the chance of spilling the contents everywhere.
DOWNLOAD EDUTAINMENT APPS
Before you get on board, pop these apps on to your iPad or smartphone. You can always pull them out in case of emergencies. The music box app Press Here is good for all ages, the LetterSchool will provide some inflight edutainment and Bugs And Buttons will teach your tots all about creepy crawlies.
Destinations Featured in the Article
Knowledge
Expertly Crafted
Value
Peace of Mind