Las Vegas is about to lose its crown as the Wedding Capital of the World thanks to one tiny Danish island
The Wedding Capital of the World, Las Vegas, has some stiff competition… For in place of the singing Elvis, slot machines and kitsch décor is fishing cottages, cobble-stoned streets and picturesque beaches. The small island of Ærø near Denmark has become a fast-favourite with foreign brides and grooms who want to tie the knot quickly and in style.
Couples from as far away as the UAE, Singapore, India, Australia and the US have travelled to this pretty fishing island to avoid either unwieldly paperwork or huge celebrations at home. In fact, the New York Times reported that weddings of foreigners on Ærø has risen from 236 in 2008 to 2,832 in 2015. The marriage registrars, who have increased from one to four, are now performing ceremonies at a dizzying rate, often conducting up to 25 ceremonies a day. Ærø Registrar Joan Ammersbøll says that on special dates these figures can be even higher. "On 12.12.2012, 70 couples were married by the registrars."
But it's not hard to see why foreigners are making the journey to this small island in the Baltic that looks as if it's just stepped out of a Hans Christian Anderson fairy tale. The bride and groom can wander the down the cobbled streets of Ærøskøbing in their finery, past the colourful 17th-century cottages to the town square where they can tie the knot at the historic town hall. "People marry in Ærø for different reasons," says Ammersbøll. "Some people want to marry on Ærø because they are short on time and need the paperwork to be done quickly, while others want the fairy tale island and want to get married in the air, at the lighthouse or on the beach."
It's not hard to see why foreigners are making the journey to this small island in the Baltic
To navigate any potential language barriers, couples will often hire one of the wedding companies that have sprung up on the island. Owners of the Danish Island Weddings, ex-English pilot John Moloney and his Danish wife Louise were one of the first to launch a wedding planning company on Ærø.
Louise, who is from Ærø, always thought that this romantic island was the perfect place to tie the knot. So when the couple moved back in 2008 and the mayor told her that 200 couples a year were getting married on the island, she decided to launch a one-stop shop for newlyweds.
While the majority of weddings that Louise and John plan have a small guest list, the brides and grooms are still big on ambition. So the Moloneys have not only helped couples tie the knot in the antiqued-filled Old Merchant's Court building, but in a lighthouse, on a beach and in an aircraft, and they have also organised a wedding reception on board a tall ship.
And Ærø has also seen its own celebrity wedding. A famous drummer from a British rock band chose to tie the knot with his Danish bride on the island and came to the Moloneys for their help. Although they are happy to make any day go swimmingly, including helping a couple who organised a huge wedding in their home country and realised with four days to go they had failed to book a registrar to perform the ceremony. "The event was too big to cancel," says John Moloney. "So the couple flew here on their own, married, and then celebrated the event at their 'wedding' at home."
"Typically our [couples are] international – often from two different countries, but living in a third country. But we get couples in many different circumstances," says Moloney. Couples only need to be residents in Ærø for 24 hours before they marry, and then they can take part in a short civil ceremony that's carried out in English. Couples can read their own vows, exchange rings and then toast their marriage with a glass of champagne after the registrar announces that they are man and wife.
While the majority of the weddings go smoothly, this doesn't mean that the wedding planners on Ærø haven't also faced a few challenges. "We've had to prepare a dog to hand over the rings, rescued a groom from a public toilet and had to fib to relatives to help keep a marriage secret," Moloney adds.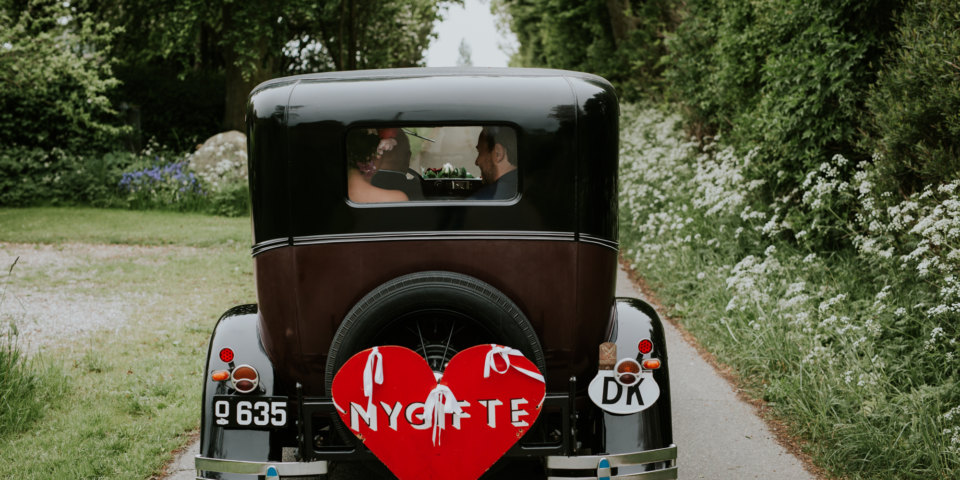 While the locals could be overwhelmed with the amount of new visitors, they welcome the newlyweds with open arms. "They love it. They often sit in the summer out in the square with a beer, watching and clapping as the couples come out of the Old Merchants' Court," says Moloney. "And of course they know what a huge boost it is to the island's economy. At a conservative estimate the 3,500 couples means around 20,000 visitors a year needing somewhere to sleep, to eat and so on."
And now the wedding island is about to receive more business as couples are also choosing to return to the island to renew their vows. "This also seems to be a growing trend," says Moloney. "We just had a couple called Tanith and Gunter who came back to their renew vows with family and friends, having got married here less than a year ago."
Now that's a perfect fairy tale ending if we've ever heard of one.
Photography: Danish Island Weddings/Camilla Jorvad
Destinations Featured in the Article
Knowledge
Expertly Crafted
Value
Peace of Mind