This means 53,000-hectare Caiman Ecological Refuge probably now offers the best chance anywhere to see a jaguar in the wild
Wendy Gomersall discovers an innovative scheme in the Pantanal area of Brazil that is helping to protect one of the world's most threatened creatures
From the giant river otter, to the hyacinth macaw and the crowned solitary eagle… the Pantanal region in Brazil is home to some of the rarest animals on earth. But, on my trip to South America there was just one creature that I was longing to see and that was the jaguar. I yearned to see one of these great big beautiful cats slink out of the forest.
Yet as the jaguar has now been placed on the International Union for Conservation of Nature's Red List, which features the world's most threatened species, my hopes of doing so seemed to be slim. There are an estimated 15,000 left in the wild and the population is declining.
The reason for this population drop is due to man. As there has been an alarming reduction of forest land, the jaguar is losing its habitat. This means that the jaguar has to travel further to find food, man and animal are coming into conflict. The Phantoms of the Forest are now being killed for helping themselves to cattle and other livestock, and as they have been known to attack humans they are often shot on sight.
However, there is one project that aims to put a stop to this vicious cycle. Projeto Onçafari run by the Caiman Ecological Refuge aims to encourage local communities, especially children, to appreciate the jaguars in their midst, not just as wonderful animals that deserve to live, but for their immense economic value as an attraction for affluent tourists. Simply put, the jaguar is worth much more alive than dead.
Alongside re-education and rehabilitation, the non-profit conservation initiative includes an ongoing programme aimed at acclimatising the big cats to vehicles and passengers so they become easier to see, thus boosting the number of fee-paying visitors to the region.
Female jaguars are used as they stay put – a male could well prowl onto non-friendly neighbouring land and be an easy target for cat-haters. They are not tamed, not trained, just gently persuaded through familiarisation that not all humans are a threat.
All this means 53,000-hectare Caiman Ecological Refuge probably now offers the best chance anywhere to see a jaguar in the wild. It's hoped other landowners and communities will come on board and invite the project onto their estates, too.
Caiman Ecological Refuge is a 50-minute flight from Campo Grande and covers a massive area of 53,000 hectares. It was established in 1986 by Dr Roberto Klabin, and hosts several conservation efforts.
Projeto Onçafari is the passion of co-founder Mário Haberfeld, a former Brazilian racing driver who now devotes his energies to conservation.
He told me that in the Brazilian Pantanal, 95 per cent of land is privately owned. Cattle ranching, which has been carried out on most of it for around 200 years, has fortunately left the environment largely unaltered, but it also means jaguars have been hunted all this time, too, so they are very afraid of people and the feeling's mutual.
'We had to change the jaguar's mindset,' said Haberfeld, 'to show that we don't represent any danger.'
The group uses methods employed successfully with leopards in Africa. During high season, limited numbers of tourists can pay to go out with the Onçafari team. They can look for kills, check for tracks, set camera traps, assess data collected from radio collars and of course, spot big cats.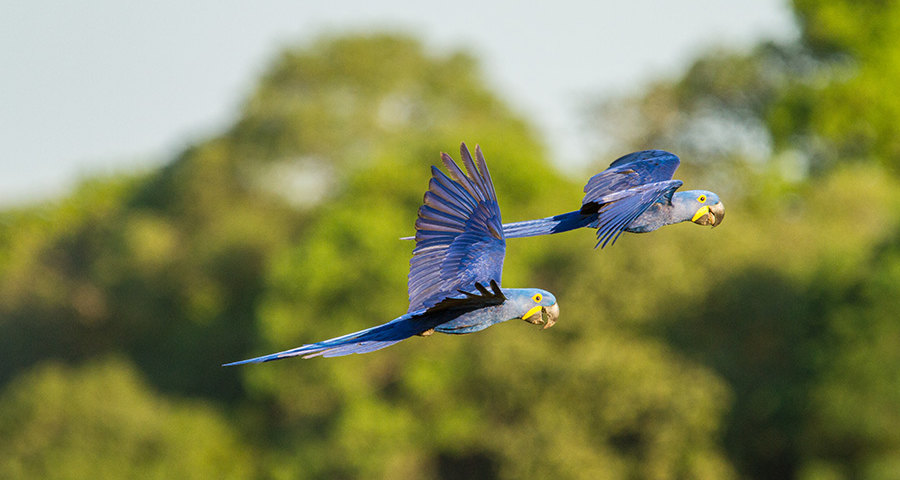 There's a three-hour trip, a full day and evening, and even a three-day programme; so far, all guests have seen jaguars. In addition, jaguar-spotting drives led by the refuge's own expert guides are included for tourists staying at the refuge's two lodges.
I climbed aboard the 4WD and quietly crossed my fingers. Would I see a jaguar?
Within an hour, I'd seen capybaras by the dozen. They look like giant guinea pigs and are a favourite jaguar food. There were caimans, which are also incredibly, big cat snacks. Plus crab-eating foxes, peccaries, armadillos and glorious multi-coloured birds, including hyacinth macaws, jabaru storks, rare bare-faced curassow and cute burrowing owls.
And we must have seen more than a dozen giant anteaters over our stay whole some with babies clinging to their backs. Surprisingly big, with a faintly ridiculous look, their self-defence mechanisms are no laughing matter. If threatened they deliver a lethal hug featuring a massive claw used at dinnertime to open ant and termite mounds.
But come on, what about spotted cats?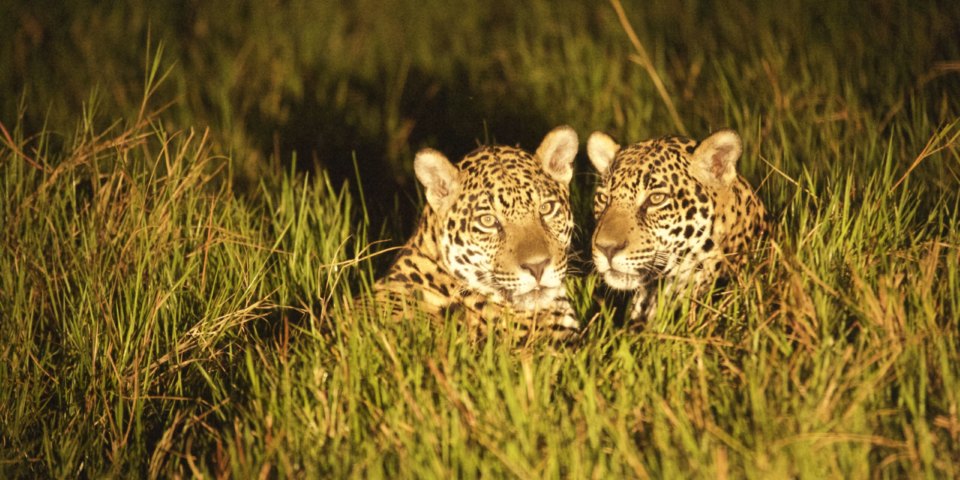 In the fading light of late afternoon, eyes fixed on the forest to my right, hoping and hardly breathing, I suddenly realised our vehicle had stopped. Throwing my gaze forward, over the bonnet to the road directly in front of us, I soon saw why.
A huge, hairy giant anteater was simply standing there, not moving… while two beautiful young jaguars casually padded round him, necks stretched in curiosity, swapping bewildered looks with each other.
The mother of these mature twin cubs was called Esperanza (meaning "Hope") one of the project's most beautiful and cooperative jaguars.
What's more, our guide explained, she was very probably watching her offspring, and us, from the forest where we could see some low branches quivering.
This was a lesson from mum on what the twins could and should not eat. Thankfully, neither made a move to attack, provoking one of those awful death hugs.
We watched enthralled for a while, then our cats slinked off back into the forest to their mother.
I couldn't wait for the next game drive.
My final jaguar tally at the end of my stay – five big cats in three sightings. May this long continue so that more people can experience this magical moment.